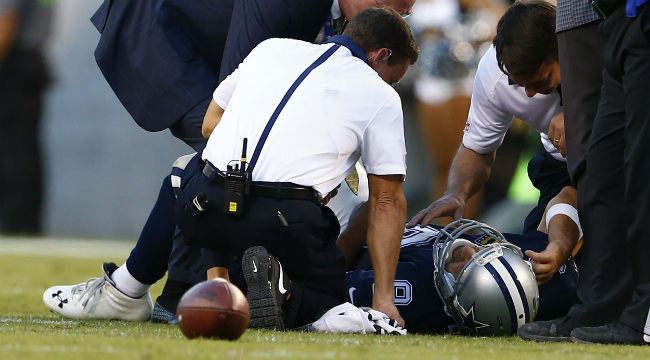 The NFL sucks this year.
As we edge ever closer to the playoffs, that is the only thing that has become clear. The NFL resembles the slop you see jaded lunch ladies pour onto plates in school comedy movies. There are two really good teams (Patriots and Panthers). There are maybe five good teams (Cardinals, Bengals, Steelers, Vikings, Broncos). Then there is a bunch of confusing nonsense (everyone else).
Are the Packers good? Who knows! Are the Falcons going to lose every game after starting off so well? Sure seems like it! Wait, the Chiefs have won five games in a row? Without Jamaal Charles? They are leading Wild Card contenders? What? The 5-6 division-leading Redskins are the most competent team in the NFC East? Romo died again, yet the Cowboys still remain just two games from first place? Matt Hasselbeck is 4-0? Does anyone know what a goddamn catch is? Was the Patriots undefeated streak really ended by a 6'7 version of Robert Pattinson?
At least in all this confusion, we can take solace in the steady NFL constant fact that the Browns are still the Browns.
Thanksgiving week was not kind to me. I doubt I'll have a worse prediction performance this season. It was a hard week to pick, so many games could have gone either way, and on this week, I was like the Nazi guy at the end of Indiana Jones and the Last Crusade picking out the Holy Grail. I chose… poorly. Total for the week was 7-9. Hey, with that record, I could still probably win the NFC East, so it's not all bad. But still, nine incorrect picks. My arm is officially falling off as I type this. Maybe this is what I deserve for thinking Carolina/Dallas was a trap game.
So, let's get to the benefits of the massacre. THE MOST SURPRISING WINNERS OF WEEK 12:
LIONS
If the Lions win, I will draw Mark Sanchez running into Jim Caldwell's butt.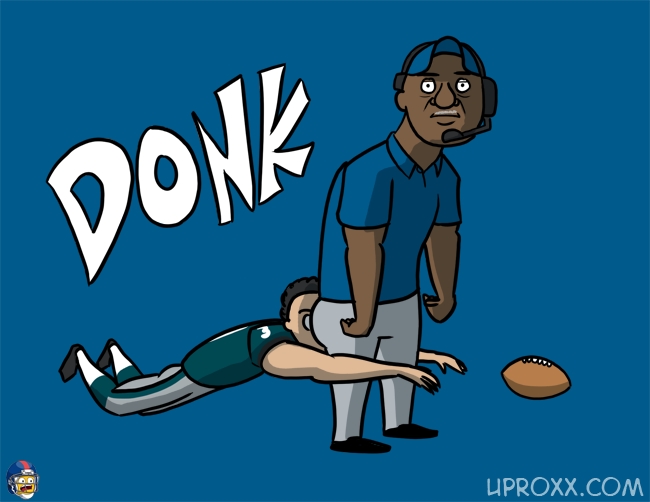 PANTHERS
If the Panthers win, I will draw Cam Newton as Calvin (from Calvin and Hobbes) peeing on the state of Texas.
BEARS
If the Bears win, I will draw Jay Cutler walking away from a fat Wisconsinite exploding.

CHARGERS
If the Chargers win, I will draw Philip Rivers being very excited to eat a hot dog.

JETS
If the Jets win, I will draw Jets colors StarScream stomping on Ndamukong Suh.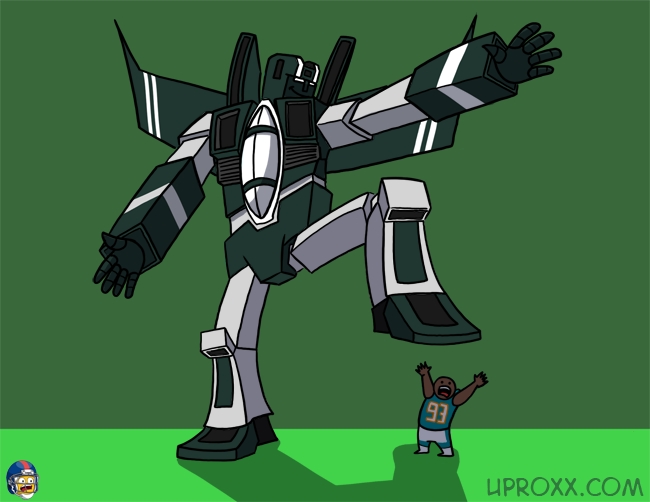 REDSKINS
If the Redskins win, I will draw Eli Manning and Tom Coughlin confused by a clock.

SEAHAWKS
If the Seahawks win, I will draw Marshawn Lynch saying "yeah."

BRONCOS
If the Broncos win, I will draw Brock Lobster.

RAVENS
If the Ravens win, I will draw Mike Pettine and Johnny Manziel drinking together.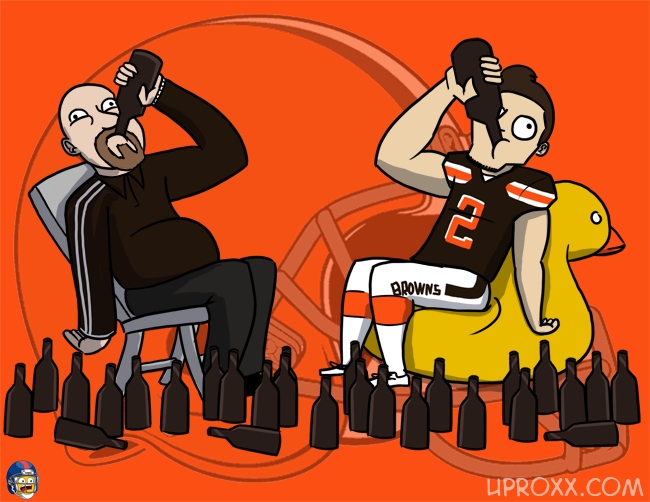 Check out my previous weeks failures in full glory right here!
WEEK 1 | WEEK 2 | WEEK 3 | WEEK 4 | WEEK 5 | WEEK 6  | WEEK 7 | WEEK 8 | WEEK 9 | WEEK 10 | WEEK 11
Now, let's get to the predictions and hope to the football gods things go a little better this time — I don't want to have surgery on my shoulder thanks to too much drawing until they can replace it with a sweet cyber shoulder that shoots lasers.
PACKERS @ LIONS
I'M DOING IT. I'M PICKING THE LIONS. I DON'T CARE ANYMORE. BRING ME MY WHISKEY, LET IT WASH OVER ME, I'M PICKING THE GODDAMN LIONS BECAUSE LIFE IS SHORT AND ONE DAY I WILL DIE, SO WHY NOT LET IT HAPPEN FASTER.
If the Packers win, I will draw Jim Caldwell shedding a single tear.
TEXANS @ BILLS
Remember back in, like, Week 2, when hyped-up Bills fans were trash-talking like they were fans of a team that hasn't been a giant misshapen lump of disappointment that shatters hopes and dreams for more than a decade? Bills fans are so cute, I just wanna pinch their cheeks and tell them to never grow up and realize how horrible life is. They always find out by Week 10, anyway.
If the Bills win, I will draw Rex Ryan pelvic thrusting.
RAVENS @ DOLPHINS
Matt Schaub did his best to Schaub away the game, but you can't out-Browns the Browns. Even if your team literally used to be the Browns. The Dolphins are stupid and bad and belong in tuna cans, but the Ravens have their starting QB and RB nevermore.
If the Ravens win, I will draw Matt Schaub pooping in a Dolphin's blowhole.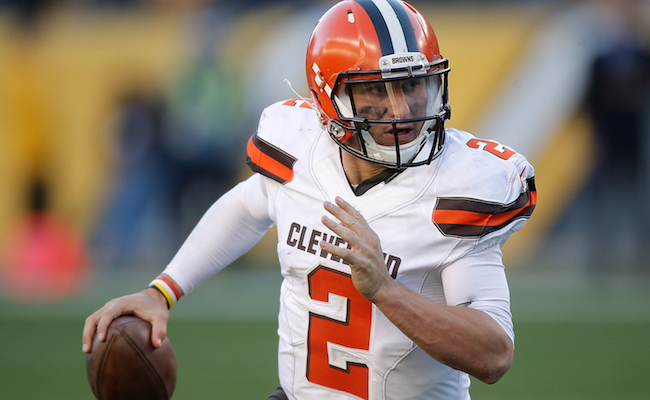 BENGALS @ BROWNS
BROWNS, YOU ARE A CRIME AGAINST NATURE.
If the Browns win, I will draw Andy Dalton committing seppuku in shame.
49ERS @ BEARS
Remember in Week 1 when the 49ers beat the Vikings and all the 49ers fans got this little, tiny twinge of hope? Hope that maybe it would work out after all? That maybe Tomsula could do it? That maybe Kaep might be okay? Hahahahahahahahahahaha.
If the 49ers win, I will draw Jim Tomsula as a fat, slobby Super Mario.
JAGUARS @ TITANS
DIDN'T THESE TWO URINALS PLAY EACH OTHER LIKE A WEEK AGO? WHAT KIND OF SCHEDULING IS THIS?
If the Titans win, I will draw Mariota pooping into a Jaguar-colored toilet, as revenge for my last cartoon.

SEAHAWKS @ VIKINGS
Jimmy Graham tore his patellar tendon. The same thing Victor Cruz did last year. Going from experience, the fans should expect this: Jimmy Graham will have a successful surgery. He will look good and seem to be making an excellent recovery. He'll enter the season expecting to play. Then he'll tweak some dumb muscle related to the leg from overcompensating, and then he'll waddle back between probable and out until you finally just accept that he's never coming back.
If the Seahawks win, I will draw the Count from Sesame Street counting to 12, ah ah ah.
JETS @ GIANTS
The Giants are dumb and stupid and lame and bad and crappy and boneheaded and incapable of not sucking and inferior and depressing and sometimes OBJ is cool, I guess.
If the Giants win, I will draw Eli as the King of New York.
RAMS @ CARDINALS
The Rams couldn't generate offense even if they went on Tumblr as a privileged white male saying feminism is bad.
If the Rams win, I will draw Nick Foles as Slenderman.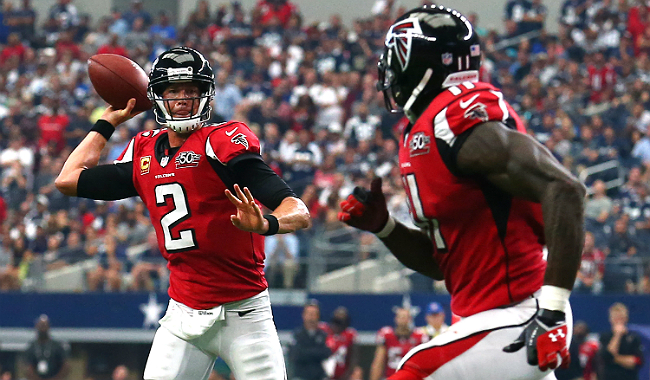 FALCONS @ BUCCANEERS
*Tom Petty walks out on stage. He sits down on a stool with his guitar. He tunes it, looks out at the crowd, puts on a Falcons hat and a Matt Ryan jersey, and then begins to sing*
CUZ I'M FREEEEEEE, FREE FALLING
If the Falcons win, I will draw Matt Ryan as an exciting bowl of oatmeal.

BRONCOS @ CHARGERS
Last week, the Chargers screwed me over because they finally won a game against the Jags, which is like a stoppable force hitting a moveable object. Well, the Chargers are still bad, and they are about to get Brocked, so I salute them.
If the Chargers win, I will draw Philip Rivers eating his Brock-oli.
CHIEFS @ RAIDERS
HOW ARE THE CHIEFS WINNING ALL THESE GAMES? Alex Smith plays quarterback like he thinks throwing beyond 10 yards will start World War III. They don't have Jamaaaaaaal Charles. How is this happening?
If the Raiders win, I will draw Andy Reid as the Hindenburg.
PANTHERS @ SAINTS
Even Ted Ginn Jr. could score five TDs against this Saints defense and nobody would be all that impressed. My grandmother could score at least three TDs on this defense. My dog could score, like, seven. Drew Brees could probably throw for, like, 10.
If the Saints win, I will draw Hobo Fabio Rob Ryan.
EAGLES @ PATRIOTS
Remember when Chip Kelly was a football genius who was going to change how the game was going to be played and revolutionize the sport? Remember when he jettisoned all the talent, and the fans ate it up and slurped that Kool-Aid down like an over-enthusiastic drainpipe after you pull the plug in the bathtub? I wonder what college team he's going to coach.
If the Eagles win, I will draw Tom Brady running into Mark Sanchez's butt.
COLTS @ STEELERS
Matt Hasselbeck not only still plays football, but he's undefeated this season! Of course, even if Big Ben is out with a concussion to his giant meat noggin, the Steelers aren't some puny AFC South team, or the Falcons. Antonio Brown could probably just throw the ball to himself and win.
If the Colts win, I will draw Antonio Brown with a Colts logo haircut.

COWBOYS @ REDSKINS
The Year is 3057. Aliens land on a ruined Earth. They search the planet for signs of life. They find nothing save a lone dumpster. The dumpster is labeled NFC East Football. The Aliens peek inside, and that's when they understand. That's when they knew what happened. The Earth was not undone by nuclear war. It was not undone by a rogue meteor, a robot uprising, zombies, or the death of the sun. There was no rapture, no disease, no global warming to end us all. What ended us was simple. One day, we all woke up and realized that Kirk Cousins and the Redskins were the most competent team in the NFC East and were probably going to win the division. Humanity never stood a chance.
If the Cowboys win, I will draw a dumb Cowboy fan telling Broken Romo that they knew they could win without him.