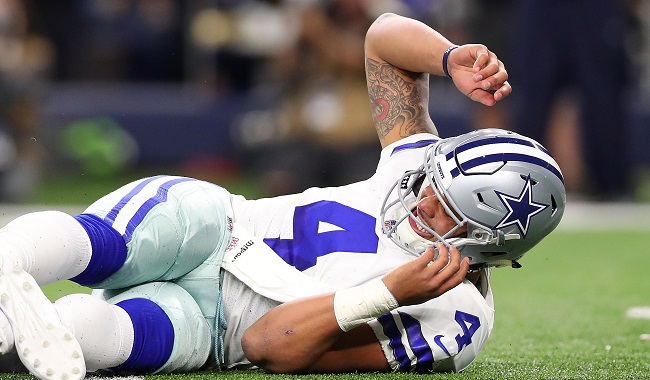 We're struggling right now but, in the same breath, sometimes it takes some grinding to stay afloat. Week 11 was not particularly kind to us, beginning with two field goals in a matter of seconds to sink a Thursday night Under but triage allowed for a respectable performance. Thanksgiving week is exceedingly public in nature because, well, everyone is watching football to avoid family time and that actually brings some opportunities. Before we get to our five selections, let's check in on the season-long performance.
Last Week: 2-3
Season: 30-25
Come get these winners.
Chargers and Cowboys UNDER 48 points
Dallas been almost completely impotent offensively in the absence of Zeke Elliott and Tyron Smith and, while Smith could return on Thursday, it isn't enough to push me to the Over side of things. The public is almost always going to be on the Over in a (very) visible spot like this so fade them violently and rely on San Diego's wrecking ball defensive front to wreak havoc. Oh, and I don't think the Chargers can blow this up singlehandedly, even if that is a legitimate concern after last week.

Giants and Washington UNDER 22.5 points in the first half
Kirk Cousins was largely good against the Saints but not even that showing could swing me away from this Under pick. New York's offense remains ghastly and the first half should provide a more true result in what could be a very weird game. The Giants just can't inspire me offensively and Washington's defensive concerns aren't sizable enough to worry me in this setting with the entire world on the Over in play.
Bucs and Falcons UNDER 24.5 points in the first half
Atlanta's defense actually isn't terrible, especially against a quarterback like Ryan Fitzpatrick. The Falcons can be had by mobile signal-callers that can create from scratch but, uh, Fitzpatrick isn't that and the Falcons' maturation offensively could be slowed for enough of this 30-minute stint. Candidly, this is my least favorite pick of the week but the key number helps quite a bit and we can get to the window in style.
Seahawks and Niners UNDER 22.5 points in the first half
Russell Wilson might do some wild things in the second half of this game, but we don't care about that. Seattle's defense is banged-up in a big way but they'll have enough to keep San Francisco down in a division battle and we're betting on a rock fight for 30 minutes. If nothing else, perhaps Pete Carroll will run a failed fake field goal again to aid in our cause.
Broncos and Raiders OVER 43.5 points
Yes, we're giving out an Over this week. Oakland was involved in our first Over of the season and we're going back to the well. In short, the Raiders are dreadful defensively and, while Denver's offense has not been inspiring, the presence of a new offensive coordinator for this game actually brings some encouragement. It may not be conventional to be rooting for Denver to score but it's on-brand in a way that many Over selections simply would not be.