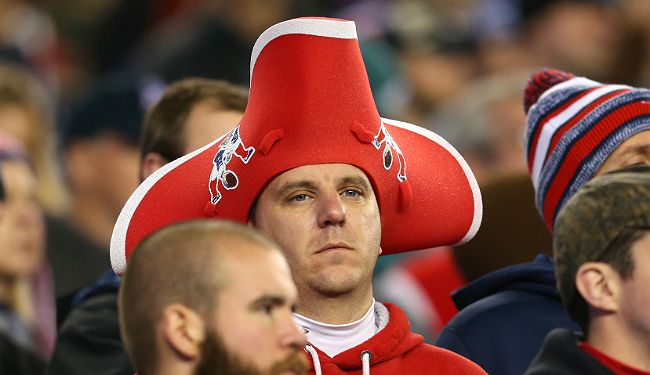 RED ALERT
BATTLE STATIONS
THE PATRIOTS HAVE LOST TWO GAMES IN A ROW FOR THE FIRST TIME SINCE 2012
PREPARE FOR OVERREACTING
Yup, the Patriots lost again. They are winless since Thanksgiving. This time, it was the Eagles who took them down (in Foxborough!). Despite some last-minute heroics by Touchdown Tom and his merry band of Belichick drones, the Eagles managed to hold on to their lead. The Patriots have fallen out of the No. 1 seed and have been replaced by the Bengals.
As for the Eagles, the crisis after the Tampa and Detroit blowouts seems to have been put on hold, and Chip Kelly is elevated back to genius status. There is no middle ground with Chip Kelly. He is either a fraud or the puppet master. Don't try to understand Philadelphia, because no one can make sense of Chip Kelly's wild ride.
Speaking of the Eagles, they are in the NFC East. The NFC East has three teams with a record of 5-7, and one team with a record of 4-8. The Giants gave up another late fourth quarter lead in what has simply become routine for New York. The Cowboys finally won a game without Tony Romo on Monday in what might have been the funniest ending of the year.
A quick recap:
Both teams crap themselves for 58 minutes, game is tied 9-9 with two minutes left.
Cowboys forced to punt, DeSean Jackson back to return.
D-Jax tries too hard, runs 26 yards backwards, fumbles ball, Cowboys have first down deep in the Red Zone.
The Cowboys score on a Darren McFadden run up the gut.
The Redskins receive the kickoff with roughly 1:10 remaining.
Redskins get excellent return, then flags are thrown. Personal Foul, facemask…COWBOYS. The Redskins start on the Cowboys 42-yard line.
Several plays later, D-Jax goes deep, gets open, and redeems his mistake by catching the game-tying touchdown with roughly 44 seconds left.
Cowboys get great kick return.
14 seconds left, Dan Bailey kicks 54-yard field goal to win the game.
The NFC East is garbage.
Elseware around the league:
And now to the main-event, this week's cartoons! As the season wears on, my accuracy seems to diminish, and while I didn't fail quite as badly as last week, I still got seven games wrong.
PACKERS
If the Packers win, I will draw Jim Caldwell shedding a single tear.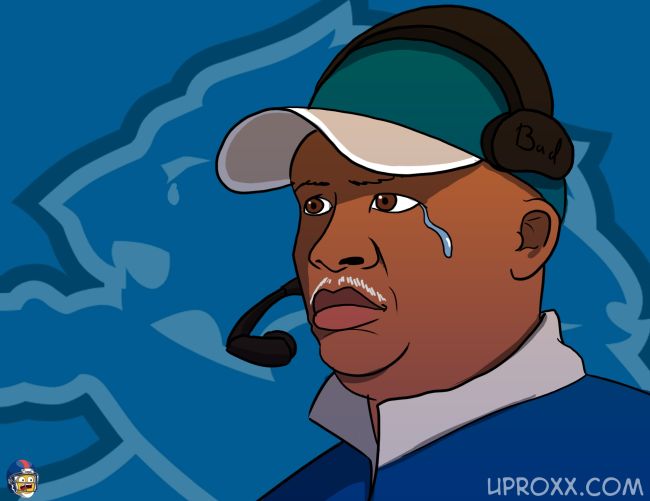 49ERS
If the 49ers win, I will draw Jim Tomsula as a fat, slobby Super Mario.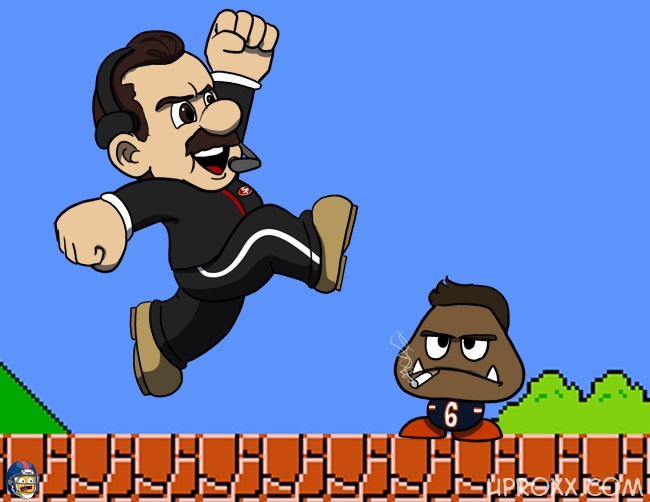 SEAHAWKS
If the Seahawks win, I will draw the Count from Sesame Street counting to 12, ah ah ah.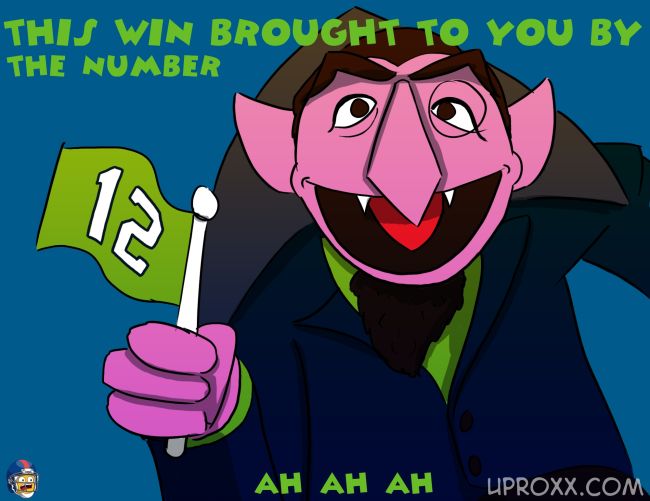 EAGLES
If the Eagles win, I will draw Tom Brady running into Mark Sanchez's butt.

COWBOYS
If the Cowboys win, I will draw a dumb Cowboy fan telling Broken Romo that they knew they could win without him.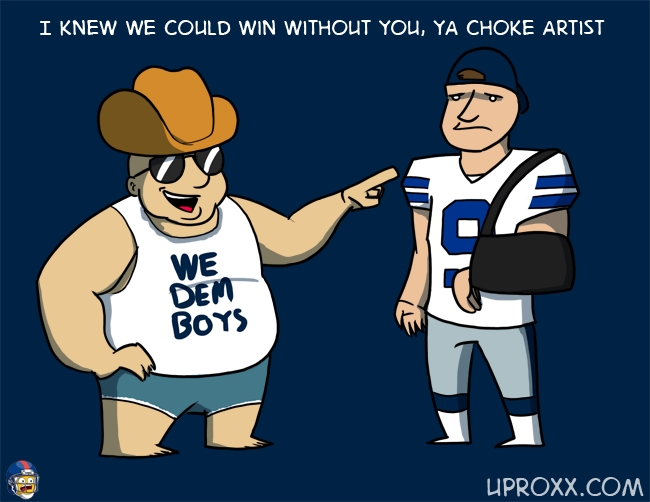 TITANS
If the Titans win, I will draw Mariota pooping into a Jaguar-colored toilet, as revenge for my last cartoon.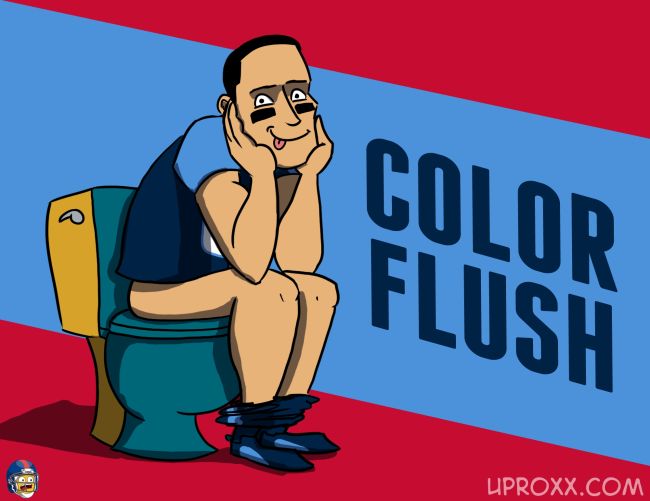 BILLS
And the best thing I've made all year: If the Bills win, I will draw Rex Ryan pelvic thrusting.


Check out my previous weeks failures in full glory right here!
WEEK 1 | WEEK 2 | WEEK 3 | WEEK 4 | WEEK 5 | WEEK 6  | WEEK 7 | WEEK 8 | WEEK 9 | WEEK 10 | WEEK 11 | WEEK 12

We've only got four weeks left, so now the games really start to matter. Yeah, they mattered before, but now they REALLY matter, like super matter. Only one team has been mathematically eliminated from playoff contention so far (I'll give you three guesses as to who… haha, yeah, you probably already knew it was the Browns), so things are hot hot hot, and some of these are must-wins for both teams.
VIKINGS @ CARDINALS
Oh, Minnesota. We take you seriously, and you fail. We ignore you, and you succeed. Well, this is primetime. Thursday night. You just got shellacked by the Seahawks in embarrassing fashion and your defense is hurt. You must now face…the Cardinals, who have replaced you as the best team in the NFL that no one is talking about. Just take it like a man and move on. You get to beat up the Giants in a few weeks.
If the Vikings win, I will draw Adrian Peterson as Thor.
BILLS @ EAGLES
Seriously, the Eagles are a complete nonsense team. But so are the Bills. This game is what Chaos Theory looks like in football terms.
If the Bills win, I will draw Rex Ryan twerking.
SEAHAWKS @ RAVENS
Lock your doors. Board up your windows. Find out which family member you love least and are willing to sacrifice to buy you escape time. The Seahawks have found their mojo and look like the Legion of Boom we all know and get annoyed by again. That means one thing: The bandwagoners have come back out, and it's only a matter of time before the smug plague overwhelms us all.
If the Ravens win, I will draw Matt Schaub riding a Raven.
49ers @ BROWNS
Johnny Manziel. Starter. Backup. Third String. Starter. Whatever beef coach Mike Pettine has with little Johnny has led to quite a roller coaster year. The Browns can start whoever they want, they will still suck, because they are the Browns, and sucking is eternal
If the Browns win, I will draw Johnny Manziel as a gold prospector.
FALCONS @ PANTHERS
The Falcons started this season 6-1. They haven't won a game since. Atlanta hasn't flamed out this bad since William Tecumseh Sherman came by for a visit. The Panthers have a very real chance of going 16-0, even with Ted Ginn dropping everything thrown his way. Seriously, how is Ted Ginn still in the NFL?
If the Falcons win, I will draw Ted Ginn dropping the chance at going undefeated.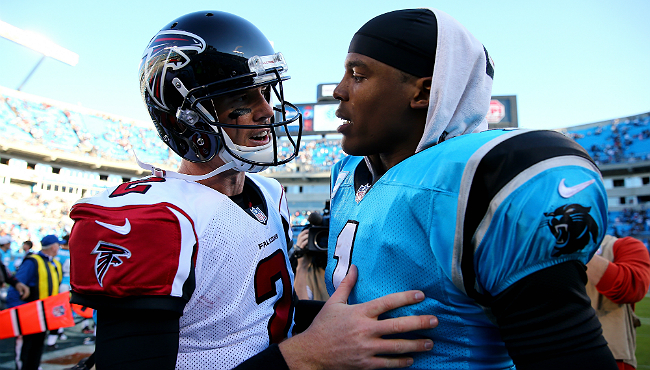 REDSKINS @ BEARS
The Skins had a very real chance to take control of the division this past weekend, but they went full NFC East (never go full NFC East). The Skins are very bad on the road, but luckily they get to play the Bears, who are very bad anywhere. The Bears are fighting for a chance to stay relevant, the Skins a chance to go back into first place. Both will likely trip over themselves, the question is who will trip harder?
If the Skins win, I will draw Captain Kirk Cousins punching a bear.
STEELERS @ BENGALS
I'm going with the upset here. The first Bengals/Steelers game was a huge slugfest with the Bengals squeaking it out in the end. The Steelers, however, have the best passing game in the league, a good run game, and a passable defense. This is going to be one hell of a fight. A win for the Bengals and they keep control the the entire AFC, and put the Steelers in a dangerous spot. A win for the Steelers puts them in the drivers seat for a wildcard. Watch this game, it's important.
If the Bengals win, I will draw Andy Dalton as Hades from Disney's Hercules.
LIONS @ RAMS
You shouldn't laugh at cripple fights. It's rude and insensitive.
If the Rams win, I will draw Jeff Fisher as a walrus.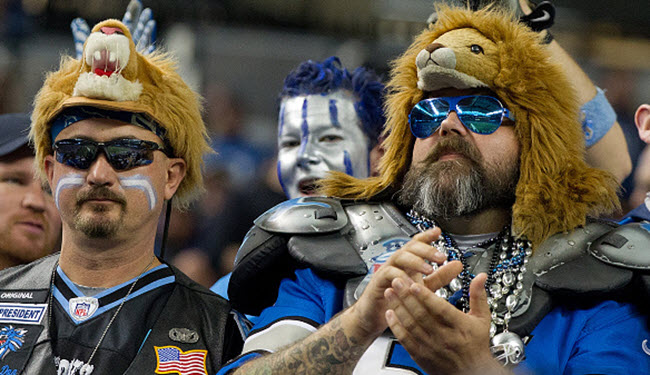 COLTS @ JAGUARS
An AFC South match-up for the ages. You know, the Dark Ages.
If the Colts win, I will draw Andrew Luck as Hodor.
CHARGERS @ CHIEFS
Philip Rivers is probably the most pro-life person in the entire league, so it's kind of hilarious he plays for an abortion of a team.
If the Chargers win, I will draw Walrus Reid shocked by a thunderbolt.
SAINTS @ BUCCANEERS
You know when you were a kid and you hated to take cough medicine? Remember how terrible it tasted? The acidic, grimy feel of the "grape" fluid that you had to gag down because mommy said so? That's the Saints defense.
If the Saints win, I will draw stained-glass window Drew Brees.

TITANS @ JETS
The Jets are so cute when they are giving the Patriots an actual fight for the division. You just wanna root for them, even when you know they'll eventually just crash and burn.
If the Titans win, I will draw a Duck shooting down a Jet Plane.
RAIDERS @ BRONCOS 
Weeeee Wiillllll Weeeeeeeee Willlllll Brock You (dum dum tish)
If the Raiders win, I will draw Derek Carr marching with Brock's head on a stick.
COWBOYS @ PACKERS
The Packers aren't a very good team right now. It's hard to accept, I know. But they are. You shouldn't need a 60-yard Hail Mary to beat the Lions. You can't lose to the Bears, in Lambeau, on BRETT FAVRE night. Luckily, they're facing the worst team in the worst division in football.
If the Cowboys win, I will draw Matt Cassell as king of poop mountain.
PATRIOTS @ TEXANS
Man, could you imagine the fun we'd all have if the Patriots lost three games in a row? Oh man, that would be such a fun week. Boston media in full panic mode. Fans getting super salty and defensive. Trolls everywhere. Too bad life is cruel and that will never happen.
If the Texans win, I will draw a weatherman giving Boston's forecast.
GIANTS @ DOLPHINS
This is the Monday night game we deserve for supporting the disgusting corporation known as the NFL. This is our punishment. These are the consequences of the choices we make.
If the Giants win, I will draw Eli Manning enjoying the beach.