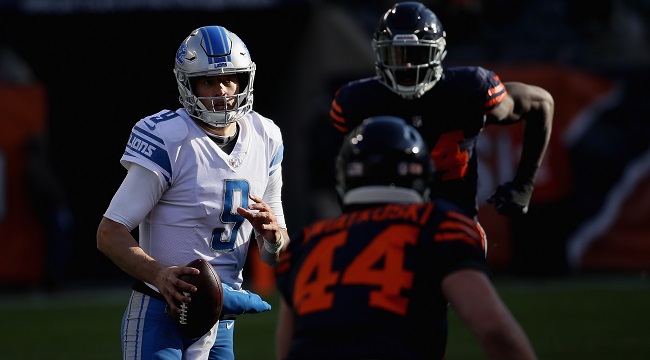 With college football's regular season schedule out of the way, the NFL can now establish itself as a force on Saturday over the next several weeks. In short, that is the unofficial sign that the stretch run is really here in the league and, for us, that means a more balanced slate to attack when it comes to handicapping over/under point totals. There has been some success in recent days, including a 3-2 showing in Week 14, and that sets up a reminder of our season-long performance at this juncture.
Last Week: 3-2
Season: 39-30-1
Come get these winners.
Bears and Lions UNDER 44 points
The Bears exploded for 33 points last week as the Bengals melted down and, as a result, this line is too high. Prior to that performance, Chicago averaged 17.2 points per game over a five-week sample and, while the Lions aren't "good" on defense, they aren't terrible either. There is some fear that Matthew Stafford gets healthy in this spot and lights us up but this feels like an old-school NFC North showdown that will grind it out toward victory.

Eagles and Giants UNDER 20 points in the first half
Hello, Nick Foles. No one enjoyed the Carson Wentz injury and, frankly, it will be interesting to see what happens in Philadelphia moving forward. For our purposes, though, it feels like an opportunity to exploit some of the growing pains that could arrive in this first half, as the Giants are capable of putting together a reasonable half of defensive football. Foles may not be terrible but, even if he plays well, there is a possibility of Philly's defense just shutting New York down completely and that gives us the cushion we need.
Bengals and Vikings UNDER 42 points
As noted above, the Bengals were dreadful last week and they should be at least reasonably inspired to get that sour taste out of their mouths. That, in conjunction with a Vikings offense that is looking more normal these days, should help to dampen down that side of the ledger. On the opposite side of the ball, Minnesota's defense remains frisky and, well, it's a Bengals offense that no one should ever trust.
Seahawks and Rams UNDER 47.5 points
The Seahawks need this one and they'll need to lean on their defense to get it. Obviously, it isn't fun to take the Under on a Rams game after last week's 43-35 performance but, if anything, it probably helps us with the line being a point or two high in this spot. These are two above-average defenses and we like that.
Patriots and Steelers UNDER 26.5 points in the first half
This pick will look (very) silly if the Steelers look like they did last week on the defensive side of the ball. With that said, Pittsburgh has been very good all season long and, while the absence of Ryan Shazier certainly hurts their projection, we're banking on an inspired effort for the first 30 minutes. Throw in the fact that we could see some weather and we'll take the first half to mitigate any weirdness down the stretch. Oh, and we're fading the public. That's what we do.