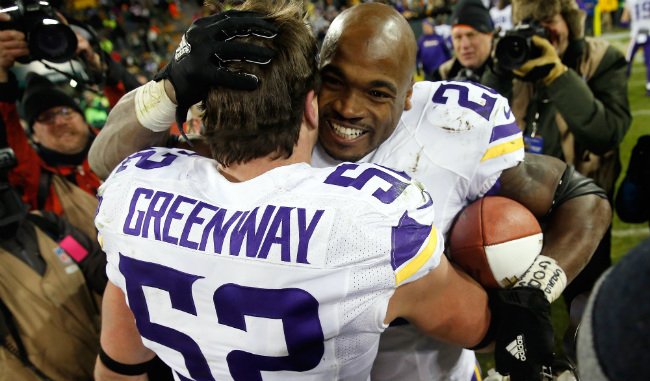 As we gear up for the playoffs, it's time to look at the final set of images for this regular season. It's been long, and I think I got worse at picking games as the season went on. Overall, I decided to go back and look at what I got wrong. I went 99-157 on the season. That would explain why my shoulder hurts. At least I kept it under 100 wrong! For all my past screw ups, here is the grand link list to previous weeks.
WEEK 1 | WEEK 2 | WEEK 3 | WEEK 4 | WEEK 5 | WEEK 6  | WEEK 7 | WEEK 8 | WEEK 9 | WEEK 10 | WEEK 11 | WEEK 12 | WEEK 13 | WEEK 14 | WEEK 15 |  WEEK 16
As stated last time, this week is a little different. Going on a theme, each image this week was based off of a Mortal Kombat fatality, because this is the end for many teams. I got seven wrong, so here we go!
If the Dolphins win, I will draw Ryan Tannehill's deflated ball fatality on Tom Brady.

If the Bills win, I will draw Rex Ryan's foot fetish fatality on Ryan Fitzpatrick.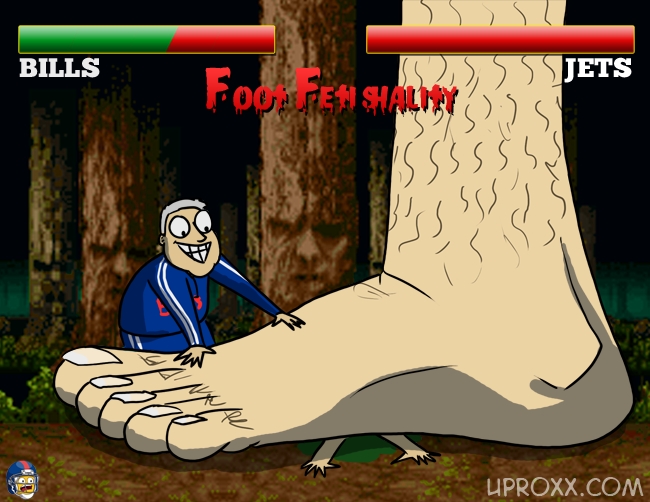 If the Colts win, I will draw Andrew Luck throwing his ruptured organs at Mettenberger fatality. (Being that Luck was out and the Colts started Josh Freeman, I changed this one up a little bit.)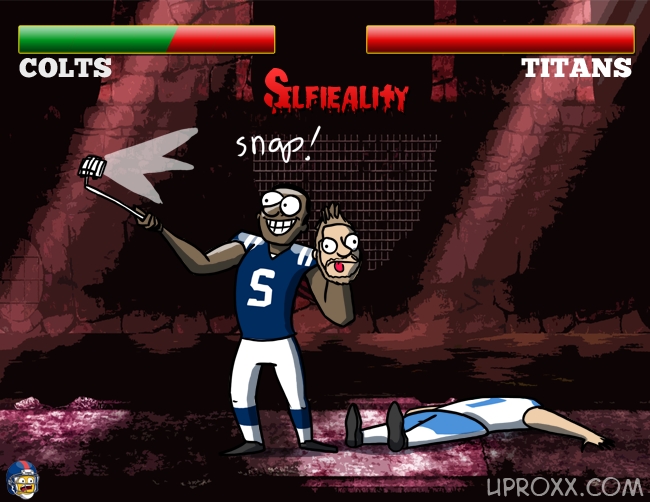 If the Saints win, I will draw Drew Brees dusty old fartality on Matt Ryan.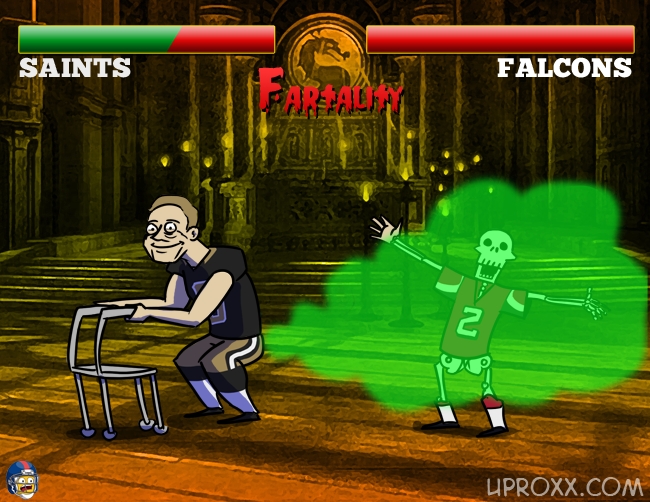 If the 49ers win, I will draw Blaine Gabbert's gold miner fatality on Nick Foles.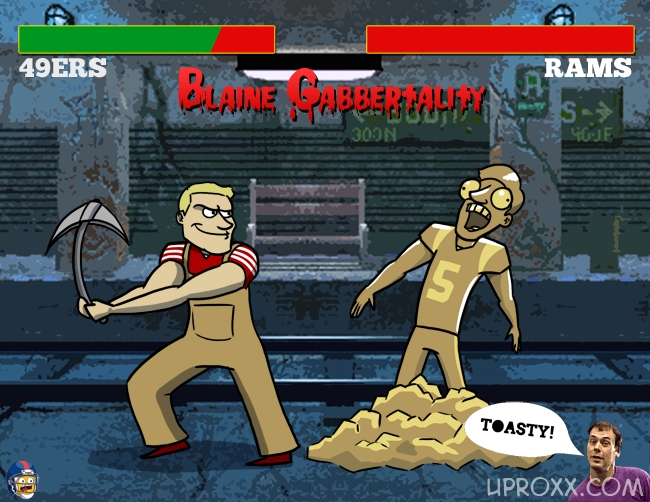 If the Seahawks win, I will draw Russell Wilson's recovery water fatality on Carson Palmer.


If the Vikings win, I will draw Teddy Bridgewater's viking fatality on Aaron Rodgers.

And that is that. OR IS IT? That's right, baby, just because we only have the playoffs left, that doesn't mean I'm going to stop. In fact, I'm going to change things up a little bit for the playoffs. It seems wrong to only pick four games with a high chance of getting maybe two wrong, which doesn't provide much fun for you, the reader. So, because there are indeed only four games, let's guarantee four cartoons no matter what. These games will not be merely picked. These games will simply have a cartoon for each outcome. That way, if you have no stake in who wins, root for whichever picture you think would be funnier!
Here now are my Wild Card picks:
KANSAS CITY CHIEFS @ HOUSTON TEXANS
I want to pick the Chiefs so bad. So bad, you have no idea. I think they are the better team here. I think Houston had the benefit of a bad division. I think the Chiefs are on a roll, they've won 10 in a row to close out the season and feel unstoppable, which doesn't make sense because they did all of this without Jamaal Charles. Andy Reid has really turned this franchise around. He's gotten the best play out of a limited quarterback. He's got his defense playing ball like men. He's probably got his picture on the wall of every BBQ place in KC for finishing the local "challenge" for each bar. But the Texans have had surprising luck in the first round of the playoffs, and the Chiefs have not won a playoff game in more than a decade. Until that streak ends, it's too risky to pick against it.
If the Houston Texans win, I will draw Brandon Weeden in Calvin and Hobbes style peeing on Cleveland and Dallas.
If the Kansas City Chiefs win, I will draw Alex Smith shooting the monkey off of Kansas City's back.
PITTSBURGH STEELERS @ CINCINNATI BENGALS
The poor Cincinnati Bengals. It looked so positive. They fielded one of the best teams in football this year and looked like they might be finally able to get over that first round hump, even simply by getting a bye. Andy Dalton shed the scapegoat moniker and looked like a true professional QB, even getting in on the MVP talk earlier in the season. The future looked bright for the Bengals. Then Dalton broke his thumb against this very team and the Bengals limped into the playoffs, only to face their hated rivals again, with A.J. McCarron behind center. The Steelers know playoffs. They know how to win. They are dangerous. We know how this ends. I'm so sorry, Bengals fans.
If the Bengals win, I will draw Who Dey (Bengals mascot) standing triumphantly over Steely McBeam like Muhammad Ali over Joe Frazier.
If the Steelers win, I will draw Antonio Brown climbing the Stairway to Seven.

SEATTLE SEAHAWKS @ MINNESOTA VIKINGS
The Vikings knocked off the Packers in a triumphant final week of football to claim the NFC North for their own. We doubted them, we ignored them, we all tip-toed around Adrian Peterson winning the rushing title after abusing his child. Now they get to face possibly the hottest team in the NFC in the first round, and it looks to be short lived joy. The Hawks started rough this year, but have really turned it on, spanking the Cardinals in Week 17. Russell is playing like a man twice his height. No Marshawn Lynch? None needed. Not even Rawls going down has stopped them. The Seahawks have managed to convince themselves they are the hated underdog again, and that can only mean watch out, nanobubbles coming.
If the Vikings win, I will draw Linval Joseph playing hockey with a frozen Russell puck.
If the Seahawks win, I will draw Richard Sherman pooping on Adrian Peterson.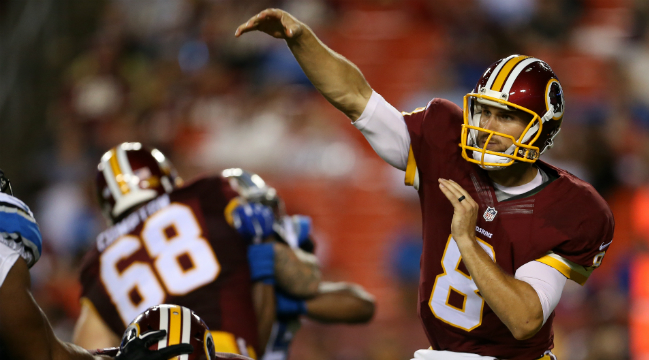 GREEN BAY PACKERS @ WASHINGTON REDSKINS
So much for saving the best for last. This is the crapfest of the weekend. At least we are guaranteed to get rid of one of these losers. Green Bay's offense has been pathetic in the second half of the season. The Skins may have surprised us all this season, but it was over a terrible NFC East and they are the most boring team possible. One of these bums is going to win. Just hope they manage to make it entertaining, because neither of these teams is going to make it past the divisional round.
If the Redskins win, I will draw Kirk Cousins, liking that.
If the Packers win, I will draw Clay Matthews whipping his hair back and forth.