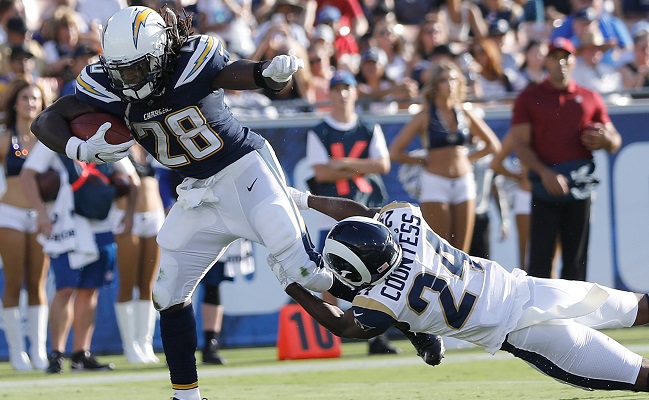 In a less than surprising twist, it is difficult to pick winners 100 percent of the time, especially in the NFL. Week 1 was exceptionally kind to us but, with a bit of bad luck and a few wrong sides, things flipped to some degree in Week 2.
To be fair, posting a 2-3 performance in a given NFL week is far from disastrous and, from an overall standpoint, the results have been good. Still, we must lean on our principles to see us through and, before giving out five potential winners for Week 3, let's glance at the official results.
Week 2: 2-3
2018 Season: 7-3
Come get these winners.
New York Jets and Cleveland Browns UNDER 40 points
Let's get exceptionally weird. Thursday night games are often brutal to consume and, on paper, this appears to be one for the ages. Honestly, the Browns are better than they've been in a while and the Jets have real hope with Sam Darnold but, on a short week, this might be ugly. If you just have to take a side, I might actually lay the points with the Browns but I can't possibly give that out officially. With that said, these are two of the top six defenses in the league to this point (according to DVOA) and a total this low is just begging for an Over play. We won't take the bait. Root for punts and field goals all night.
Buffalo Bills (+17) over Minnesota Vikings
I'm not going to tell you that the Bills will be competitive here. Buffalo looks to be the worst team in the league by a substantial margin and they travel to Minnesota to face one of the league's best. However, my principles simply won't allow me to do anything but take a 17-point favorite in Week 3 of the NFL season. It's just what has to happen.
San Francisco 49ers (+6.5) over Kansas City Chiefs
More than 75 percent of the tickets are on Kansas City here and that shouldn't surprise anyone. The Chiefs look like a juggernaut with Patrick Mahomes at the helm and the Niners haven't exactly lit the world on fire to this point. With that said, this number is a bit rich and, well, we're banking on the Niners being undervalued while the Chiefs probably aren't as good as they've looked through two games. It won't be fun to root for but San Francisco is the side.
Los Angeles Chargers (+7) over Los Angeles Rams
The Rams are getting a lot of "best team in the league" buzz right now, whereas the Chargers are… not getting that buzz. Still, this line is two or three points too high as a result of that public perception and, because the Chargers don't really have home-field advantage, the numbers are always strange with them on the road. With a gun to my head, I'd pick the Rams to win the game but the full touchdown is enough to entice me on the underdog.
Arizona Cardinals (+6) over Chicago Bears
The Cardinals look terrible and, if the Bills didn't exist, they'd be getting more attention for it. Still, the notion that Chicago should be laying six points on the road in Week 3 is pretty aggressive and that is the basis for this play. The entire world will be on the Bears but, if you look closely, there is a bit of sharp action on Arizona in what is the equivalent of a "kitchen sink" game for the Cardinals. Hold on to your hats and take the candy.