Maybe it's some sort of karmic reward for holding onto the infinite patience that got us through a never-ending offseason. Seven months of discussion about the intricacies of ball deflation made the football gods sympathetic to our plight and forced their hand in bestowing us a veritable bounty of undefeated teams through Week 3. Last year, only three remained unscathed at this point; now it's seven (pending Green Bay's result Monday night against Kansas City).
If your team is one of the lucky ones, walk around this week with a skip in your step: Teams that start 3-0 have a roughly 75 percent chance of making the postseason. That means, with a little luck, we now know half of the eventual playoff field come January.
Except, well, we all know that when the sample size is small enough, objects in your sideview mirror can look somewhat deceiving. Some teams are bound to falter, either through some catastrophic injury or simply the natural act of regression. Not a damn thing we can do about the former, but the latter is something ripe for guessing. We, as football fans, should be able to discern some insight of how certain teams might end up, especially when taking into account, say, their stars' performances or remaining strength of schedule (SOS) based on last year's records.
Let's give it a go. Who has the best chance of turning this lossless start into something ultimately special? Let's rank 'em.
7. Cincinnati – Here's something you may not know: Andy Dalton is having a phenomenal season thus far, at least by the numbers. Among qualified starters, Dalton is second in yards per attempt (9.4), second in TDs (8), and second in QB rating (121.0). And the Ravens starting 0-3, coupled with the injury to the Steelers' Ben Roethlisberger, means they might, for all intents, have this AFC North basically wrapped up already, as long as they stay upright. The biggest issue I have is that Cincy's SOS was the second-hardest of any team coming into this season. They've still got the Seahawks, Cardinals, Broncos, and Bills left to play. And yes, this is the same Andy Dalton who's led them to the playoffs four years in a row, but with a mediocre defense, I see little reason to think they can actually win a playoff game — as they've failed to do four years in a row.
6. Denver – Is it crazy to think that the Broncos are 3-0 in spite of Peyton Manning and not because of him? Because right up until that final drive Sunday night in Detroit, the one that sealed a tenuous 24-12 win in front of a national primetime audience, I was leaning toward the former. His passing yards are lower than brother Eli, Ryan Tannehill, and Marcus Mariota. He's thrown fewer TDs than Tyrod Taylor and Ryan Fitzpatrick. And his inclination to throw the deep pass has been essentially non-existent. Now, some of this could be attributed to a lack of comfort with new head coach Gary Kubiak and his offense. Manning will certainly increase his pace as the season progresses, but in a hyper-competitive AFC, he'd better hope it happens fast.
5. Carolina – Well, this is a surprise encounter. These Panthers, who won a division last year at 7-8-1 and a –35 point differential, were probably supposed to do worse after losing key players in the offseason (Greg Hardy, DeAngelo Williams) and appearing to not address some glaring needs, such as wide receiver, which became more of a hole with the preseason injury to Kelvin Benjamin. But what the hell do we know? You never bet against Riverboat Ron, who has opened with wins against Jacksonville, Houston, and New Orleans. Powerhouses those are not, but the Panthers are a team that is learning to win, and with Cam Newton healthy and protected and a more-than-competent defense (seventh in fewest yards allowed), the Panthers can ride a very easy slate (27th in SOS) to a wild card spot or even another division title — this time with more wins than losses.
4. Atlanta – How are the Falcons staying perfect, tied atop the NFC South with the Panthers? A high-volume offense. Running back Devonta Freeman is tied for third in carries (52), but only ranks 14th in yards (184). Matt Ryan is second in passing yards (946), but 11th in yards per attempt (8.2). They are bludgeoning opponents with a relentless two-pronged attack and it is working so far, and Julio Jones (440 yards, 4 TDs) may have supplanted Antonio Brown as the best receiver in football. The defense is still giving up a healthy allotment of yards (378 per game, 24th in NFL), which is troublesome, but the Falcons also have the easiest SOS of any team in the league, and that may carry them to a No. 2 seed and first-round bye in the NFC.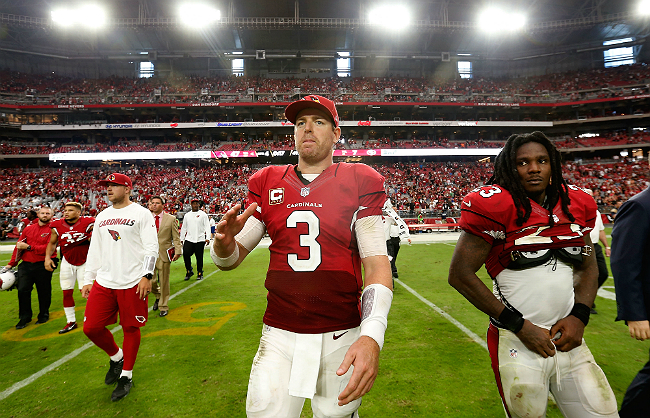 3. Arizona – The Cardinals are 3-0 while the rest of the once-formidable NFC West are all 1-2. How so? Arizona's complete and utter decimation of the 49ers on Sunday certainly played a role. After the 47-7 rout, the Cardinals are now the highest-scoring team in football (42 points per game), with the perpetually reliable Carson Palmer having thrown nine TDs so far. The defense has also been excellent, allowing the fifth-fewest yards and picked off the most passes (7) so far. The Cardinals don't have an easy road (fifth-hardest SOS) to the playoffs, but they've already got the biggest divisional lead in the NFL, and Bruce Arians is a coach who knows how to win. You underestimate him at your own peril.
2. Green Bay – Little bit of an asterisk here as the Packers are still 2-0, but they're at home against a middling Kansas City squad in Monday Night Football. Of course, Aaron Rodgers is what makes this team run. The league's top-rated passer after two games, the golden boy from Cal is, so far, getting by just fine without the services of wide receiver Jordy Nelson. Sure, Rodgers hasn't completed a pass longer than 40 yards, but Randall Cobb is still out there as a deep-play threat, and Davante Adams has stepped up as a decent No. 2 option. A mediocre SOS combined with all this pedigree and experience means the Packers are likely this year's class of the NFC, as long as Rodgers remains upright and mobile.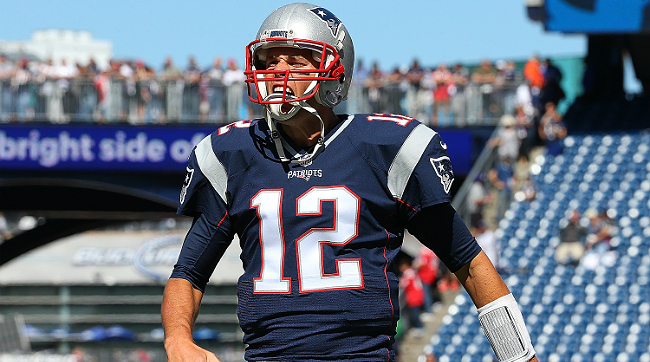 1. New England – The Pats are still plenty pissed, and they want to be in Santa Clara for Super Bowl 50 and force Roger Goodell to hand them another Lombardi Trophy. Every team dearly wants to win the title, but the Pats are like a Cormac McCarthy villain at this point. They want revenge and they want it bad. New England had the 22nd-ranked SOS coming into this season, and based on how they are playing, there is a non-zero chance they go into the playoffs 16-0. They did it once before — in the season that the Spygate controversy came to light. This time around feels bigger than that moment, so a blemish-free regular season would not at all shock me, especially seeing how they've stomped their first three opponents.