NFL Week 5 was an astounding week of football filled with a lot of almost upsets. The Washington Redskins almost managed to take down the undefeated Atlanta Falcons, only to be undone in the end by the already classic Kirk Cousins interception. The Eagles managed to right the ship and look like the team everyone expected against the lowly Saints. The Seahawks looked like the champs of old, only to fall apart completely in the fourth quarter to the Bengals. The Browns secured a win over the Ravens, in Baltimore, with the help of Gary Barnidge's buttcatch. The Giants finally managed to be on the good side of a late fourth-quarter comeback after a miracle two-minute drill ending with a stellar Larry Donnell catch. The Steelers also managed a late-game comeback with a walk-off touchdown.
Also the Patriots and Packers won because of course they did. The Broncos won despite Peyton Manning having the arm strength of a newborn baby. The Bears came back after Jamaal Charles tore his ACL (dooming millions of FanDuel and DraftKing players' hopes in the process, I'd imagine).
Despite several scares and three overtime games, my picks from last week were mostly accurate, with only four games chosen wrong. That puts me at 10-4 for the week, and 54-25 on the year. As always, here are the losers, illustrated:
BEARS
If the Bears win, I will draw Jay Cutler dangling BBQ over Andy Reid's head.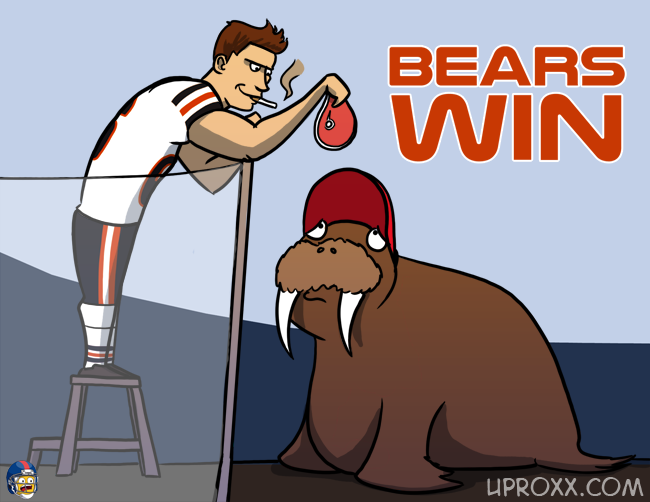 BUCS
If the Bucs win, I will draw Jameis Winston as a pirate slicing off Shahid Khan's mustache.

BROWNS
If the Browns win, I will draw the Brownie tying the Raven down to a table with a pendulum swinging over it and the Brownie laughing "nevermore."

STEELERS
If the Steelers win, I will draw Mike Tomlin talking to Dr. House as Philip Rivers lies dead in the hospital bed.


Also, despite the Raiders losing, I still did my promised picture of Lady and the Tramp, because it was too good an idea to not make anyway.
So, what do we have on the slate this week, and what terrible concoctions will I have to cartoon in its aftermath? Let's take a look at our schedule and make some picks:
FALCONS @ SAINTS
If the Saints were a public bathroom, they'd be that one bathroom at the train station with no seat, god knows what on the walls and floor, swastikas etched into the walls, spiders, used feminine products in the trash, and hypodermic needles strewn about. The kind of bathroom that makes a person decide to pee in the corner of the station instead.
If the Saints win, I will draw Rob Ryan as Fabio.