Playoff football never really disappoints, does it? Sure, not every game is a masterpiece — Chiefs/Texans, for example, was just a boring Texas slaughter. Packers/Redskins started strong with a safety (!) and another DeSean Jackson bonehead non-touchdown, but eventually Washington fell apart as we all remembered that they never once beat a winning team this season and they were champions of the horrible NFC East.
But those other two games more than made up for it. Steelers/Bengals was… it wasn't a football game. It was a transcendent experience. At one point, we were treated to A.J. McCarron vs. Landry Jones in a playoff game. Vontaze Burfict took out Ben Roethlisberger and intercepted a pass to keep the Bengals ahead in the final two minutes, and then he ends up being a huge reason why the Bengals lost. The crowd was throwing things onto the field. Coach Joey Porter of the Steelers managed to draw Adam Jones into a penalty to make the final kick even easier. There are a lot of heartbreaking and insane ways to lose a football game, but the Bengals managed to outdo themselves and gave us a meltdown for the ages.
Speaking of heartbreaking ways to lose a football game, the Vikings went with a classic. Play tough, crap football for four quarters, kicking only field goals, then shank the one that matters most. Poor Blair Walsh. Dude was the only reason the Vikings were even in the game, but now all people will ever remember is the shank. It was like negative eleventy billion degrees, too; that football had to be extremely hard to kick. The Seahawks escape the frigid tundra of Minnesota and now head to Carolina, and the stage is set for the divisional round.
But before we talk about that, let's look at this week's cartoons! I got two games wrong, but it doesn't really matter, because the cartoons this week weren't based on if I got them correct. So, here are the results of the Wild Card round!
If the Kansas City Chiefs win, I will draw Alex Smith shooting the monkey off of Kansas City's back.

If the Steelers win, I will draw Antonio Brown climbing the Stairway to Seven.

If the Seahawks win, I will draw Richard Sherman pooping on Adrian Peterson.

If the Packers win, I will draw Clay Matthews whipping his hair back and forth.

And of course, all the previous cartoons in one place:
WEEK 1 | WEEK 2 | WEEK 3 | WEEK 4 | WEEK 5 | WEEK 6  | WEEK 7 | WEEK 8 | WEEK 9 | WEEK 10 | WEEK 11 | WEEK 12 | WEEK 13 | WEEK 14 | WEEK 15 |  WEEK 16 |  WEEK 17
So, on to the actual games this weekend. Plan is the same, four cartoons no matter what.
KANSAS CITY @ NEW ENGLAND
Just like last week, I want to pick the Chiefs so badly, especially now that the playoff curse is over. But these are the Patriots. Our wants and dreams mean nothing, because this is the real world and life is pain. You might remember the Chiefs being the team that clobbered the Pats last year early on, in such a fashion that many people actually wondered if the mighty Patriots dynasty was over. Then the Pats got mad and won the whole thing to spite us. You can bet they probably want some revenge on that team. Things look even more dire for Kansas City when you remember that Jeremy Maclin is hurt and even if he plays probably won't be 100 percent. Plus, Julian Edelman is back for the Patriots, which automatically upgrades the Patriots offense to probably unstoppable. Kansas City will give it all she's got, but it won't be enough.
If the Chiefs win, I will draw Alex Smith as Superman.
If the Patriots win, I will draw Tom Brady as Kylo Ren and Belichick as Lord Snoke.
GREEN BAY @ ARIZONA
Three weeks ago, Arizona was arrested for the murder of Green Bay. As it turns out, Green Bay was still alive, barely, but received a life-saving dose of getting to play Washington. Now Green Bay is back for revenge. It won't work. I'm sure Green Bay will put up a slightly better fight this go-round, but it's impossible to see Rodgers and company get past the Red Menace.
If the Packers win, I will draw a propaganda poster with Mike McCarthy defeating the Reds.
If the Cardinals win, I will draw Larry Fitz flying on a battle cardinal.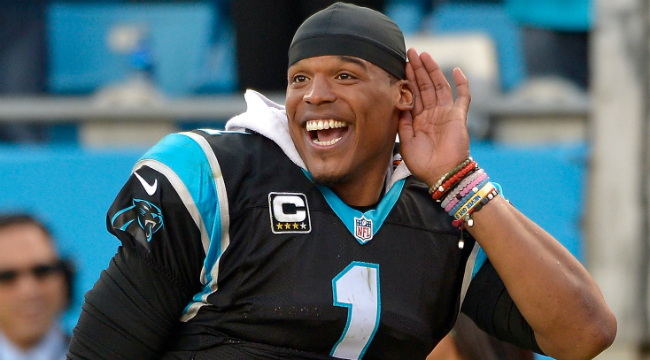 SEATTLE @ CAROLINA
It would be easy to predict the Panthers to win this, and I wouldn't blame you if you did. But this reeks of upset. Carolina has gotten too smug too fast. The bandwagon is already huge. They won it easily. The Panthers are a fun team to watch, led by an outstanding defense and the most enjoyable player in football, Cam Newton (crusty old white people would disagree, but that just makes most of us love Cam more). But pride frequently comes before a fall, and the Panthers have had some tough victories. They almost gave up a historic comeback to the 6-10 Giants. They were beaten by the Atlanta Falcons. They've been mostly healthy all year, but niggling injuries have started to inch their way in. On top of that, this is a different Seattle team than the one the Panthers barely squeaked by earlier this year. The Week 6 Seahawks were weak, aimless, and stupid. They were giving up big leads late in the fourth quarter, Giants style. Then Pete Carroll did what Pete Carroll does: He got the Hawks into a frenzy and they've been on the warpath ever since, and you can imagine they've been hoping for a redo of this game. Yeah, they played badly against Minnesota, but the weather was so bad, that game almost has to be taken in a vacuum. The Panthers should win, but don't be surprised if that isn't what transpires.
If the Seahawks win, I will draw the Seahawks Bandwagon running the Panthers bandwagon off the road.
If the Panthers win, I will draw SuperCam.

PITTSBURGH @ DENVER
This game is going to be crap. Denver feels like the weakest No. 1 seed in a long time. This game is going to depend on how injured the Steelers are. If Ben's shoulder is still hurt, the Steelers are screwed. If Antonio Brown doesn't play, the Steelers are at a significant disadvantage. If those two are alright, this is anyone's game. Denver's great defense won't contain Pittsburgh completely. The real deciding factor here is if Denver's offense can get anything done against the Steelers' D. The Steelers secondary is garbage, but Brock Osweiler doesn't inspire much confidence and Peyton Manning still has noodle arms and bad feet.
If the Steelers win, I will draw Steely McBeam eating a Chicken Parm that tastes so good.
If the Broncos win, I will draw Von Miller and John Elway doing Von Miller's sack dance. You know, the sexy one.