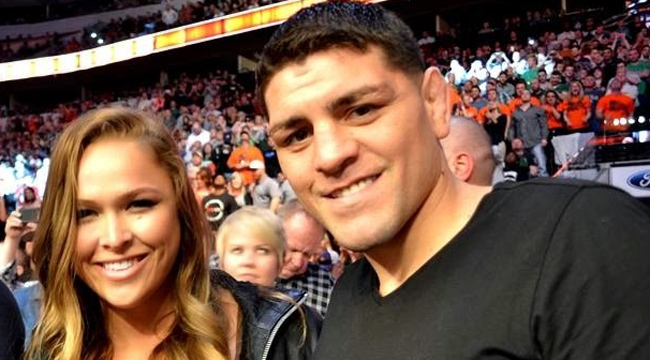 While we certainly understand why Ronda Rousey has decided to put a big wall up between her and the world following the hate she got from her last loss, it still sucks. There's simply no denying: Ronda has that elusive 'it' factor, and it was a pleasure to watch her shine like a crazy diamond all over the world stage during her first reign of terror.
Part of that reign involved a lot of time in Stockton hanging out with the Diaz Brothers. She even brought along a videographer from MMA website MiddleEasy to capture some of the fun so we could live vicariously through the lens. Martial arts were trained, good times were had, and apparently Ronda Rousey taught Nick Diaz how to 'loosen up.'
"I was like, drinking's bad for you, it makes me feel like shit, I have to train tomorrow," Nick explained on podcast The Jasta Show (transcript via Bloody Elbow). "And I have a fight coming up, always. So, I didn't drink, until I met Ronda. Ronda Rousey came to my house and she was like, 'Motherf*cker, you need to loosen up.' She put a bottle of tequila in front of me, boom, slid it over on the table, and she's like, 'Time for you to have a shot.' I'm like, 'Ohhh, alright. Alright, I'll get drunk with you.'"
That's a pretty epic story, one we feel deserves to make it into the biographical movie of Ronda Rousey starring Ronda Rousey that is apparently being developed by Hollywood. But loosening up hasn't exactly been all party time and excellence for Nick since then. The guy went from his clean living ways to earning two DUIs in 2013 and 2014 that resulted in a couple of days worth of jail time. And then there's this recent footage of a clearly smashed Nick Diaz almost refusing to let USADA drug test him because he's been up all night partying.
So Nick's loose, now. Very, very loose. We're not the ones to tell him maybe he's too loose, but … yeah. Sometimes Nick may be a little too loose.