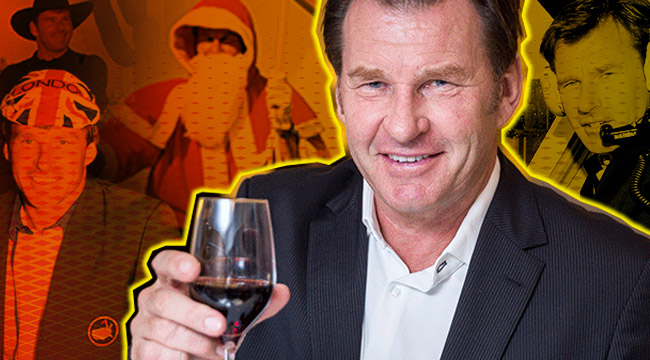 CHARLOTTE, N.C. – You'd be hard pressed to find a more interesting person in golf than Nick Faldo. The three-time Masters champ recently started his 10th season as the lead golf analyst for CBS Sports, and when he's not in the 18th tower, he's got plenty going on. Sir Nick – yes, he's been knighted – has a wine brand, an apparel line, a golf architecture and design company, oversees the Faldo Series (a series of tournaments all over the world aimed at growing the game with a younger audience), and recently started producing some fitness videos to help players improve strength and flexibility. He's been a brand ambassador for Maybach, and he once lived next door to Elton John.
As CBS Sports Chairman Sean McManus puts it, Faldo is every bit of a modern day renaissance man.
"There's not a big disparity between what you see in the 18th tower and what you see when you're talking to him at dinner," McManus, who was instrumental in getting CBS to remain the PGA Tour's dominant broadcast partner through 2012, says. "He's very conversational. I think people might be surprised that he's got a very subtle and mischievous sense of humor. He loves telling jokes, and if they're a little bit bawdy, that's okay by Nick. But he can be very engaging, and can talk about subjects other than golf, whether it's travel, or fast cars, or politics. We've had conversations about Broadway shows, and about Sting concerts at Carnegie Hall. He's not afraid to discuss other topics."
That breadth of knowledge shows through on the broadcasts, as Faldo has become a great storyteller in his time with CBS. But he wasn't always known as the mischievous, outgoing person he is today.
"It needs the humor," Faldo says from the 18th tower at Thursday's round of this year's Wells Fargo Championship at Quail Hollow Golf Club. "We need a bit of light entertainment. You can't sit and talk about golf for four hours, even to golfers. You need to go daft every hour on the hour to keep ourselves sane. If it's serious, be serious. If it's fantastic, go with it. If a shot is great, tell people why. And if it's a crap shot, tell people why."
As a player, Faldo was singularly focused. Golf – and being an only child – can do that to a person. So while other players did a good job of enjoying the gentleman portion of the phrase "gentleman's game," Faldo remained relatively selfish and myopic.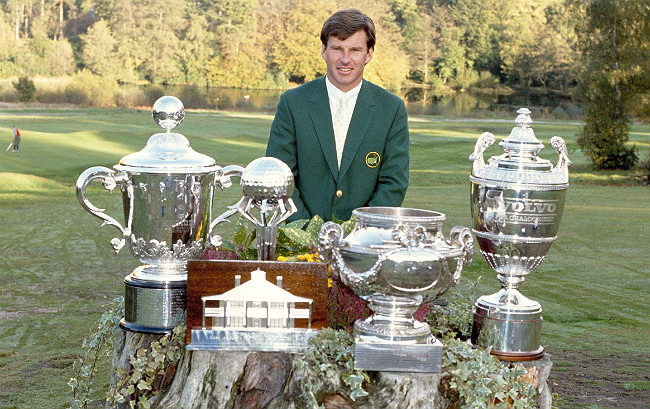 This commitment to each individual shot, and nothing else, proved to be a huge benefit for Faldo on the golf course (with three British Open wins to go with those Masters green jackets), even if it meant he was viewed as relatively unapproachable by fans, broadcasters, or other golfers while he was playing.
"Nick has tremendous powers of concentration that goes back to his days as a championship golfer," Jim Nantz, Faldo's longtime broadcast partner, says. "And that allows him to multitask and compartmentalize that when he is on something at any given time, he's able to excel at it. That's how people who can accomplish these things are able to do that. Their mind doesn't get strung out in 100 different directions. They're able to isolate their mind, and focus, and in that moment, they get on a roll. And that roll is usually pretty exceptional. That's Nick."
When he stepped away from the game professionally, that other side of him came out. Which isn't to say that this side never existed all along, Faldo just did an incredible job of compartmentalizing and staying committed to the task at hand.
He's still doing that – as well as he ever has. People are now finally getting the chance to see how engaging and versatile he really is.
"I always felt like he was kind of locked into what he was doing as a player," Nantz says. "He didn't present himself as if in that moment in time he was open to communicating, let's put it that way. The moment he got into that broadcast world, it was a transformation. It was an eye opener, and maybe downright shock, to see that Nick had this bigger than life personality. I don't think it's gotten any better over the years. He's been darn good from the get-go. He came on the air and he sounded like the second coming of Peter Alliss. He told stories. He made fun of himself. He took an image of something happening away from the golf course and could be playful with it. There was a lot of inner skill level there that no one ever knew he had. It is stark, though, to see what the image was as a player in contrast to his presentation as a broadcaster. What he's had to do is morph himself into what he has to be at that time in his life. But this is more of who he is. You're not faking it on the air. You're just being yourself."
Early on in his broadcasting career, Faldo learned how important it was to be himself. He got a lesson from Mike Tirico when the pair shared time on ABC's golf broadcasts that stuck with him: "If you think it's good, say it. If you think it's bullshit, people will know it's bullshit."
"That was my only lesson," Faldo says. "Whatever you say is going to go to Pluto. I only want to say what I'd be comfortable saying to a golfer's face. They let you go in there and do your thing. There's very little, less than minimal instruction. So I just talk golf, and I'm not going to get involved in politics, or religion, or race. I made that a rule to myself. Just talk golf. It slowly evolved my style, and I just say to myself: be smart, be quick, and be funny."
It's clear Faldo stays true to those three rules outside of the broadcasting booth, as well. In a black zip-up, with black pants, and a blue Golf Channel shirt, Faldo looks off as he's speaking as if he's been put in his own world. He'll stop himself at times if he thinks he's getting too longwinded, and he'll make eye contact. There's very little tension, but whatever bit of it there is gets broken up by his prominent laugh, or the mock drumming he does with his orange pen.
Nick Faldo might be a renaissance man, but he's just a man like anyone else. He's got a wide range of interests off the course. He loves traveling, loves music (he's had the chance to play golf with Phil Collins and Huey Lewis, and is friends with Nicko McBrain of Iron Maiden), and has a wicked sense of humor. He's got a sophisticated whiskey palate, knows his watches, and he's even a pretty dang good fly fisherman.
But for all that he has done and is continuing to do, the thing he doesn't have enough for is time to relax. While others want to take a class, pick up a hobby, or travel to exotic locations with their vacations, Faldo just wants to be at home. Specifically, the house in Montana he recently bought so he can spend more time with his 12-year-old daughter Emma.
"I keep setting a goal that I want to spend a month in a house," he says from the 18th tower at Thursday's round of this year's Wells Fargo Invitational. "One month in one place, and I haven't done it. I haven't done this now since Emma was born, and I was in Thailand and we had five weeks in one spot. It's been almost 13 years. I want to just go in one place and that's it. Make a bit of chill, and then have people come and visit me."
Faldo will travel across the world in a snap. He recently traveled to Hong Kong, China, Thailand, Vietnam, London and back home. He says for most people that's a trip of a lifetime, but when he got back, he was spent and just happy to be home. As he's gotten older, the trips feel harder. The jetlag wears on him. Even at 30 it was fine, but somewhere along the line it got to be too much.
Emma started horseback riding a couple years ago, and Faldo has been renting a horse for her to ride on. He jokes that it's a lot more expensive to rent a horse than rent clubs. ("You can rent a plane for the same price as a horse – jeepers.") But he hasn't given up on her playing golf. They made a deal that she has to go golfing with him once a month, and by next year at Augusta, she's got to be able to stand on No. 9 and hit the ball over the water. If she does that, she can keep on riding. Stunningly one of the best golfers of all time has to motivate his own daughter to play golf with him.
As for whether there's anything else outside of more time at home that Faldo is looking at doing, well, there's always one more bucket list item left.
"He's joked about being the third analyst with Jim Nantz and Phil Simms at the Super Bowl," McManus says.
Don't laugh. If there's anyone who could suddenly pop up in that booth, it wouldn't be surprising if it was golf's most interesting man.