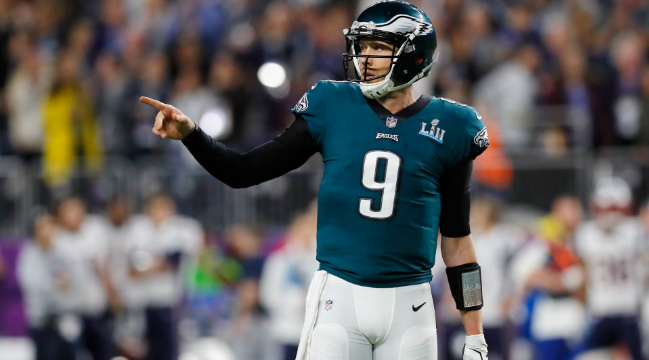 On Dec. 10, 2017, many thought the Philadelphia Eagles' Super Bowl hopes went down the drain. Carson Wentz suffered a knee injury against the Los Angeles Rams, one which ended up being a torn ACL. In his place, the Eagles put in Nick Foles, who was considered a capable backup but not the kind of guy who could lead the team to the promised land.
Everyone ended up being wrong, as Foles masterfully led the Eagles to the first Super Bowl in franchise history. The signal caller's efforts in the biggest game in Eagles history were so outstanding that he took home the game's Most Valuable Player award.

After a solid-yet-unspectacular performance in the NFC Divisional Round, Foles absolutely tore up the Minnesota Vikings in the conference title game. Foles went 26-for-33 for 352 yards and three touchdowns against the best defense in the NFL in a 38-7 win, which set up a showdown with New England.
The Eagles walked in as the underdogs, but thanks to an otherworldly experience by Foles, they were able to win the NFL's biggest prize. Foles picked apart the Patriots' defense, going 28-for-43 for 373 yards, three touchdowns, and a pick.
Foles is the most incredible story in football this year. It's well-documented that he strongly contemplated retirement before signing a deal with the Kansas City Chiefs last year, then joined the Eagles on a two-year deal this past offseason. He wasn't expected to do much of anything this year, but was thrust into the brightest spotlight possible and, after some struggles during the regular season, carried the Eagles to their Super Bowl.