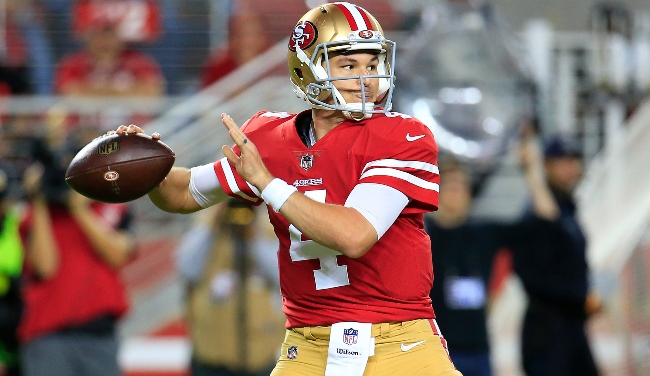 The San Francisco 49ers put all their eggs in the Jimmy Garoppolo basket, trading a second-round pick for the New England Patriots' backup last year. Garoppolo responded by playing well in the Bay Area, so much so that the Niners made him the NFL's highest-paid player back in February. But of course, because football is a cruel game, Garoppolo tore his ACL in Week 3, and the results in that time haven't been great. The Niners were winless since Garoppolo went down, as the team went 0-6 with C.J. Beathard under center.
On Thursday, San Francisco was slated to play, play Beathard wasn't able to go due to an injured right wrist and thumb. That meant former undrafted free agent signal caller Nick Mullens had to step in against the Oakland Raiders, and in a turn of events that even Hollywood would call unrealistic, the former Southern Miss signal caller carved up Jon Gruden's defense.
The Niners defended their home field on Thursday Night Football, picking up a 34-3 victory over their local rival. Mullens, who had never thrown an NFL pass before Thursday night, was out of his mind, going 16-for-22 for 262 yards and three touchdowns. Mullens' first pass wasn't life-changing or anything, but he was able to pick up a first down on a pitch-and-catch with Marquise Goodwin.
His first touchdown pass couldn't have come in easier fashion, as the Raiders defense made the executive decision to completely sell out on a play fake and not have anyone even close to Pierre Garcon.
Mullens got six points again in the second quarter, when Kendrick Bourne found a little space in the end zone and his signal caller did the rest. It capped off a 13-play, 66-yard drive that took nearly seven and a half minutes, which is always fun to watch happen.
Here is a quick interruption to have you watch this catch by George Kittle, which did not go for six, but was still great.

Kittle did get rewarded two plays later, when Mullens found him for his final score of the night. Once more, the Raider defense just lost someone on the Niners and Mullens made them pay.
It was quite the outing for Mullens. Getting thrown into the fire when you're a third-string quarterback is never easy, especially when you've never thrown a pass before, but he rose to the occasion in a big way, even if it was against a less-than-stellar defensive unit. In fact, ESPN points out that it was an historic outing on a number of levels, namely that his passer rating of 151.9 is the best in a debut since 1970 in which a quarterback attempted at least 20 passes.
Mullens was so impressive that Twitter decided to give him the ol' check mark during the game.

Mullens, in 22 passing attempts, has as many passing touchdowns as an entire NFL team. You can probably guess which one.
Again, the Raiders' defense isn't exactly stout, but it's quite the story that Mullens was this solid in his debut. It's almost certainly not going to be enough to take the starting job from Garoppolo or anything, but this is certainly a wave for him to ride for as long as possible.