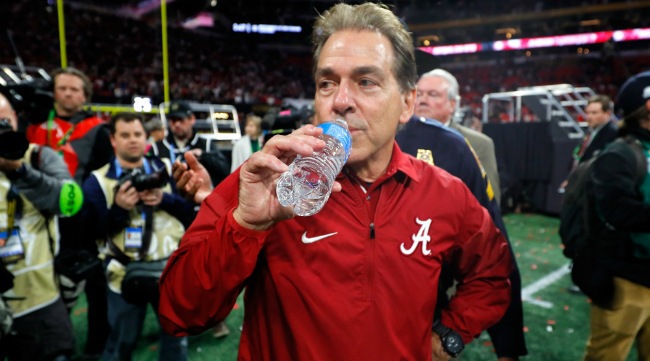 Alabama is no stranger to the College Football Playoff, having won two of the last three national championships with a loss to Clemson in the season finale sandwiched in between. This year, Nick Saban and his bunch are heavily favored to make a return trip to the four-team playoff and, even if the Crimson Tide lose as 13-point favorites to Georgia in the SEC Championship Game, the team still may reach the field.
However, that didn't stop Saban from referencing potential expansion of the playoff during his radio show this week and, whenever the best coach in the country speaks, many listen. Saban was asked about his thoughts on the potential abolishment of conference titles in favor of playoff expansion and he started by addressing the potential imbalance in the current system. (via Ben Jones of TideSports.com)
"To be quite honest with you, I don't think there's a perfect system that we have right now and I think there are some imperfections in the system that we do have right now," Saban said. "I think that in our case and in Georgia's case, both, we're in the top four, so if you didn't have playoff games, we would be in the Playoff if you didn't have championship games. There's other schools, whether it's Notre Dame or whoever fits into that category, that they don't really have to play in a championship game. If they had to play Georgia, would they get in the Playoff? If they had to play us, would they get in the Playoff? So it's not really a level playing field in terms of if you have if you have a championship game."

From there, Saban expanded his thoughts and centered on the potential for specific expansion, especially when compared to the current bowl system and even the previous, pre-playoff iteration.
"So it's not a perfect system the way it is now," Saban continued. "I think if we eliminated the championship games and put eight teams in, it would make it even better. But I think the downside of that would affect a lot of other bowl games in a negative way. I said when we started thing whole playoff thing years ago, 'It's going to minimize the importance of bowl games.' And bowl games are a tremendous, positive self-gratification for a lot of college football players, teams, and people involved in programs. That was a unique thing about college football that we don't really have anymore."
Saban isn't even ready to cross off further expansion, planting his tongue firmly in cheek and referencing a 16-team gathering and wiping out bowls altogether.
"The whole system, I think, probably needs to be evaluated to figure out what really might be the best way, not just for the Playoff, but for the whole college football deal," Saban said. "I mean, every team, everyone. Is it just about the playoffs? If it's that, we ought to just put 16 teams in the Playoff and not have any bowl games. Just keep playing games like they do in Division II and all that. But if it's important for the balance in all these areas, then I think that has to be taken into consideration as well."
Of course, Nick Saban isn't the first person to reference an eight-team playoff and he won't be the last. This year provides an interesting case but, beyond what Saban had to say, there are other pitfalls including whether conferences would have "auto-bids" in the event of a larger field. Alabama will probably be playing for the title in late December and that goes without saying. Still, the man at the helm of the nation's top program isn't arguing for status quo in all things.