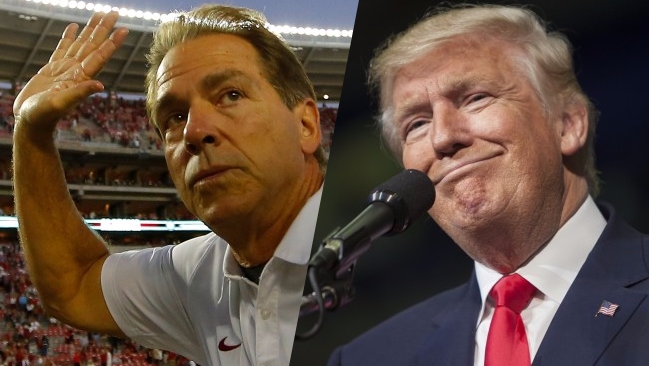 In a poll that somehow makes more sense than the real world we now reside in, college football coaches have voted Nick Saban as President of the United States (assuming they had to chose a coach to be the POTUS).
The ESPN coaches poll picked the Alabama head coach out of the very long list of college football head coaches in the country, making Bama both the top team and Saban the top leader in the country.
Saban took home top honors over Washington State coach Mike Leach, whose polling numbers may have suffered when his opponents reminded America of why Leach was fired from Texas Tech in 2009: he once allegedly locked a concussed football player in an electrical closet for a few hours.
A source close to James' family told ESPN's Joe Schad that James sustained a concussion on Dec. 16, was examined the following day and told not to practice because of the injury and an elevated heart rate. The source said Leach called a trainer and directed him to move James "to the darkest place, to clean out the equipment and to make sure that he could not sit or lean. He was confined for three hours."

According to the source, Leach told the trainer, two days later, to "put [James] in the darkest, tightest spot. It was in an electrical closet, again, with a guard posted outside."
Finishing in second place with that kind of baggage is pretty impressive, though after this week it might feel like Leach underachieved a bit.
Stanford coach David Shaw, who finished third, also hurt Leach's chances when he publicly disparaged pirates and their seafaring lifestyle in the first presidential debate, leading to a highly-publicized meltdown from the Cougars coach.
Duke head coach David Cutcliffe finished fourth in polling, which is fine, while Clemson head coach Dabo Swinney predictably rounded out the top five while never really making a legitimate push for the top spot.
Saban, of course, had no idea there was even an election but was humbled by the results. He immediately signed four 5-star recruits for his transition team and pundits expect him to create the best cabinet in the history of the presidency by early January.
The process he is expected to bring to the White House should be tremendous. There's hope for this nation yet.