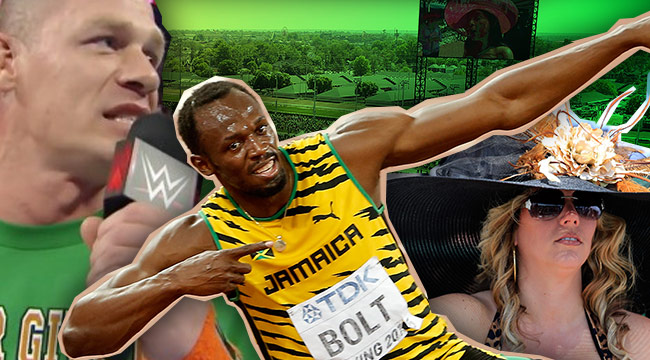 This particular period of the sporting calendar – the timeframe between mid-April and mid-May – will always rank among my favorites of the year. It's a time for hope, really. For instance, somehow, every single general manager in the NFL managed to draft the exact seven guys they were targeting last week.
"I can't believe he fell to us," said your favorite team's GM on Friday morning, in a quote they self-plagiarized from the previous year. "We look forward to him being a fixture on our team for years to come."
With the NBA and NHL playoffs in full-swing, and questionable officiating leveling the playing field and making both of those leagues complete crap shoots, this is also when fans of a dozen different basketball and hockey teams still have hopes of winning a championship. And finally, it's a time when every baseball fan still has at least a glimmer of hope that this is their year, not counting fans of the Reds, Brewers, Padres, Braves, and Twins. And probably the Diamondbacks. And Rockies. And Yankees.
Granted, I'm as big a fan of each of the aforementioned big-name sports as they come, and have been fully entertained by what each sport has had to offer us so far this spring. But for me, I'm equally as interested in what we've got coming down the pike in the lesser-known sports. You know, the ones that don't use sticks or balls. In fact, the unofficial start to the We-Don't-Use-Sticks-Or-Balls Season starts this weekend with the Kentucky Derby. And with this being an Olympics year, we'll have plenty of other non-sticky-bally events to keep us occupied throughout the summer.
Here is a quick ranking of the top sporting events you should not miss over the course of the next five months, No-Sticks-Or-Balls Division.
7. Indianapolis 500 — May 29
The 100th running of the Indy 500 will take place later this month. As George Carlin famously said, "I don't care about a bunch of [mature, grown men] driving 500 miles in a circle. Children can do that." But he also made a great point about the potential for crashes. "I want to see some schmuck running around with his hair on fire, trying to put it out, punching his own head…and I want to see cars doing a 200 mph cartwheel." As the accompanying video shows, there could be plenty of that at Indy, and you won't want to miss it.
6. SummerSlam — August 21
For the second summer in a row, the wrestling community travels to the Barclays Center in Brooklyn, New York for the annual SummerSlam. This year's event promises lots of wrestling matches, fan signage, and trash talk from large men yelling into microphones. If the organizers are smart, there will also be a tribute to Chyna, but we'll see. SummerSlam is generally recognized as the second-biggest WWE event of the year behind WrestleMania, and while there will be no balls and sticks, there will certainly be steel chairs and ladders.
5. Archery — Summer Olympics (Begin August 5)
There's a lot of standing around with archery, so you would think that it would not make for compelling television. However, for some reason, I caught an off-peak-hour broadcast four years ago and I could not turn it off. It's sort of like the Summer Games' version of curling in that way. The only difference is unlike with curling, it's not something that I'm confident I could be great at with only a half-hour's worth of practice.
4. UFC 200 — July 9
This event obviously would have ranked in the top one or two if not for some will-they-or-won't-they shenanigans involving Conor McGregor and Nate Diaz. However, it's still going to be a must-watch between two headliners (hopefully) in a brand new arena in Las Vegas in the middle of the summer. I'll definitely be willing to open up my Periscope app and watch someone's shaky smartphone feed of that for a little bit.
3. Swimming — Summer Olympics
There hasn't been the same drama attached to Olympic swimming events like there was in 2008 when Jason Lezak was bailing out Michael Phelps and the rest of the team who made up the men's 4x100m relay, but there's always the possibility that'll return. And ever since Phelps' historic run eight years ago, I find myself being more interested in swimming, at least at this stage of competition. It could just be a national pride thing, but I'm okay with that, and you should be, too.
2. Track And Field — Summer Olympics
At the 2012 Games, all eyes were on the 100m dash, and for good reason. Usain Bolt was finally going to have some competition after having blown away the field for the previous half-decade, and for the first 70 meters of the race, that looked to be the case. Of course, at the end, Bolt made it look relatively easy, as he coasted to another gold medal (see video from the 200m dash for what further displays Bolt's dominance over his peers, in my opinion). Bolt, 29, has already said the 2016 Games will be the last Olympics of his career, so seeing him go out will be must-watch television. If the organizers plan it right, they'll schedule the race at dusk and have Bolt run off into a literal sunset. That's one man's dream, anyway.
1. Horse Racing — May 7, 21; June 11
Last year saw horse racing's first Triple Crown-winner in 37 years, as American Pharoah won the Belmont Stakes after previously having won the Preakness and Kentucky Derby. Odds aren't good that we'll have a repeat performance by a different horse this year, but that doesn't matter. What does matter is that this Saturday, people will dress up like goofballs while gambling their money away and pretending to enjoy the taste of a mint julep. And it will be glorious.
Happy Kentucky Derby Weekend, everyone!