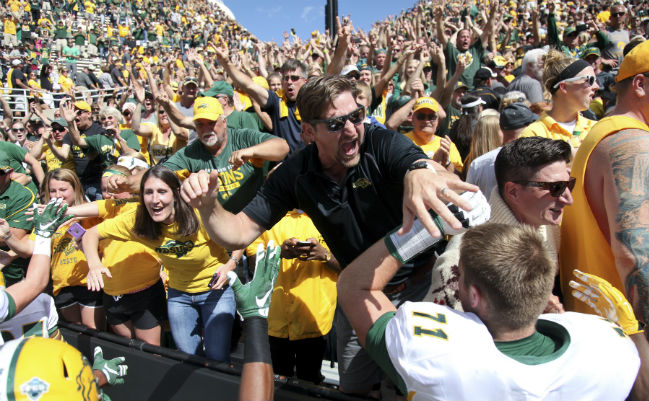 If you love a major college football program, it's only a matter of time before Bison come to trample on your season.
Reigning FCS champion North Dakota State has a nearly annual tradition of scheduling an FBS opponent and beating them. Iowa became its latest victim on Saturday when the Bison knocked off the #13 Hawkeyes, 23-21, on a 37-yard Cam Pedersen field goal as time expired.
Iowa State—which paid NDSU $500,000 to come to Iowa City to beat the Hawkeyes—should have known better. Since 2010, the Bison have been a herd of FBS-killing mercenaries, getting paid to play road games and trample dreams of Bowl Championship glory. They beat Kansas in 2010, Minnesota in 2011, Colorado State in 2012, Kansas State in 2013 and Iowa State in 2014. After Saturday's win against another Top 25 program, some think it's time the Bison take their rightful place in the poll.
North Dakota State is no ordinary FCS program. They've won five straight titles and currently have a streak of 20 straight playoff wins. And Saturday's upset at Kinnick Stadium was no fluke. The Bison had a chance to tie the game at 21 with 3:41 left in the game and opted to go for the win, failing to convert a 2-point conversion attempt. They then forced an Iowa punt and drove the calmly drove the field to set up the winning score.
NDSU now adds a win over Iowa to a overtime wins over Eastern Washington and Charleston Southern. For any program out there that enjoys paying money to suffer humiliation, the Bison currently have two open dates on the 2017 schedule.