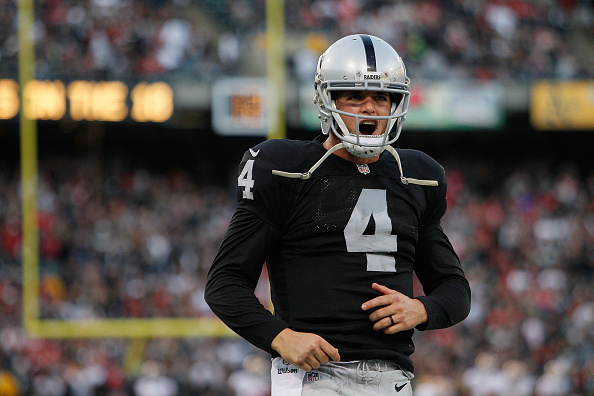 Key acquisitions:  Amari Cooper (WR), Michael Crabtree (WR), Jack Del Rio (Coach), Rodney Hudson (C) , Curtis Lofton (LB),
Key losses: most of the 2014 schedule … Carlos Rodgers? They didn't really lose anybody important.
Record in 2014: 3-13, last in the AFC West
It's hard to look at the Raiders offseason and think they haven't improved. Of course, it's easy to improve when you start so low, but at the same time, the Raiders have been putting something together in the past couple of years while nobody's watched. It just hasn't all come together yet, and this season might be the point when it does.
The Raiders have spent most of the past decade wallowing in misery. They've reached no playoffs, their legendary crypt-keeper owner passed, and went most of the season last year before winning a game (A game in which they were so eager to celebrate winning that they almost lost it). The Raiders have been a sad-sack team for so long it's tough to remember that they were the most recent AFC team to reach the Super Bowl not named the Patriots, Steelers, Colts, Broncos, or Ravens.
Then, among all of the team's struggles, there is of course the L.A. drama. The Raiders are one of three teams that might move to L.A. and that means all the Bay Area fans will either have to settle for their hated rivals, the foofy rich-boy 49ers, or continue to support a team that has abandoned them twice.
However, despite the struggles and the drama, there is optimism in Oakland. They have the best young linebacker in the game in Kalil Mack. They have a new coach who was the last coach in Jacksonville to actually get the team to the playoffs. They picked the best wide receiver in the draft, and he's had a stunning training camp. Their Bay Area rivals have imploded. Lastly, and most importantly, they have found a franchise quarterback in Derek Carr. While none of this means anything yet, the fans are feeling genuinely positive for the first time in years. But don't take my word for it, here's a genuine Raiders fan take.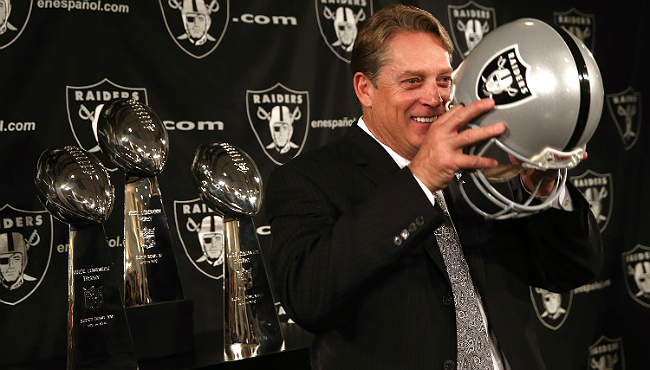 "Christ Pseudoscientist" fan preview:
It's quite simple really: The Raiders are going to win the AFC West easily. They have a running back that understands how to play (sit down Trent, not talking about you), an amazing wide receiver (not you Michael Crabtree), an up-and-coming QB (no Christian, just no), and most importantly they will be out of the sh*t hole stadium soon. When you are about to get out of prison you are on your best behavior just so that you don't get in trouble and have your sentence extended. The Raiders players know if they survive this year they will be in Los Angeles, St. Louis, or San Antonio in a year. Sure, the Browns played like sh*t before they left Cleveland, but they're the Browns.
No one else in the AFC West has a chance. Manning is on the verge of breaking down to the point that Tom Brady is cracking wise about it with any bozo that emails him. Philip Rivers and the Chargers did nothing to improve this offseason except getting caught for steroids. And the Chiefs, well, I can't even name five players of the Chiefs.
Al Davis died so that the Raiders may live again. It took 13 years to recover from that Super Bowl loss but this year is the year … to lose in the first round of the playoffs to a wild-card team.
Progress.
On the plus side, if the Raiders fall apart again, Derek Carr could always fall back on one of his many other career choices.  I hear Subway has a recent job opening.