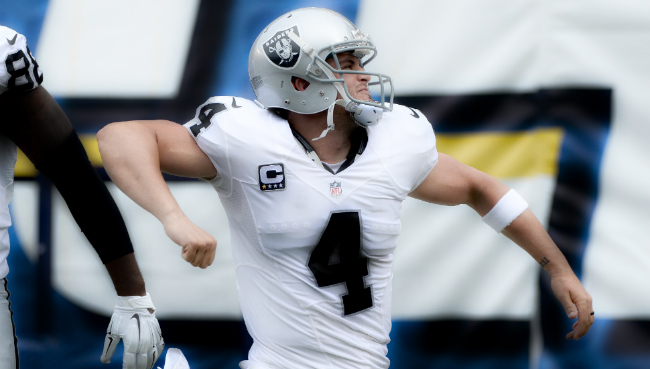 While most of America was presumably tuned to one channel to watch the Giants eke out a 27-20 win over the Cowboys and witness the further devolution of Very Bad Human and Teammate Greg Hardy, the Oakland Raiders were systematically dismantling the San Diego Chargers over on a different network. It was magnificent to watch. A young quarterback carving up a decent pass defense. A college phenom wideout making NFL secondaries look foolish. An eager defense making the No. 1 overall offense in the league look like it was run by Sam Bradford. It was an inspired, energetic effort on both sides of the ball, one that was made to look a little more interesting than it deserved thanks to a 23-0 fourth quarter, but inexperienced teams learning how to win will often give up 23 unanswered points in a fourth quarter. Fortunately, Oakland scored 30 in the first half, so it was all good.
With the 37-29 win in southern California, the Raiders moved to 3-3 on the season. Now, you probably know that the Raiders have been pretty bad since losing Super Bowl XXXVII to Tampa Bay. It's been kind of a complete and utter descent in suckitude since then, but let's revisit just how putrid the Raiders have been since:
2003: 4-12
2004: 5-11
2005: 4-12
2006: 2-14
2007: 4-12
2008: 5-11
2009: 5-11
2010: 8-8
2011: 8-8
2012: 4-12
2013: 4-12
2014: 3-13
Over that entire span, the only season with a positive run differential was 2010 (plus-39). The most lopsided year was 2014 (negative-199, worst in all of football). And the streak of seven losing years until the .500 record in 2010 marked the second-longest string of seasons with five wins or less since the 1970 merger. (Only Archie Manning's Saints were worse.) There was never any continuity or consistency. Justin Fargas once led the team in rushing three years running; no one else ever did twice in a row. The quarterback carousel — Kerry Collins, Andrew Walter, Daunte Culpepper, JaMarcus Russell, Jason Campbell, Carson Palmer, Terrelle Pryor — was a nightmare for all involved. Oakland was the AFC West doormat for years, as easy a win as you can hope to see coming up on the schedule.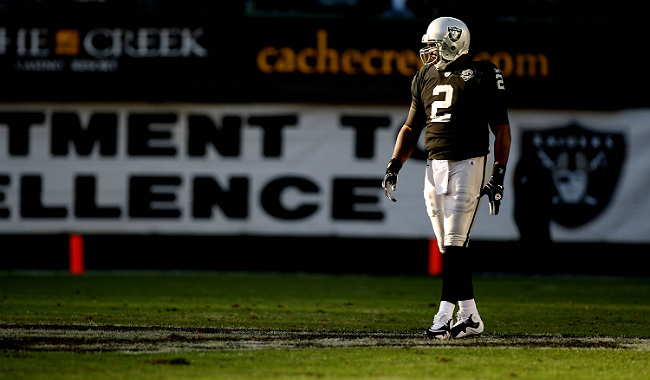 This is all kind of weird because the Raiders, let us be reminded, actually have a long and well-earned culture of winning. There are teams that simply don't win Super Bowls or produce star players of particularly noteworthiness, but the Oakland/Los Angeles Raiders have done well in both areas: Ken Stabler, Howie Long, Marcus Allen, Charles Woodson, Jim Plunkett, Tim Brown, and so forth. These players are regarded as elite, as winners, as some of the most successful to ever play their respective positions. The Raiders of the past decade or so may have been a joke, but that's not how Raiders fans grew up experiencing football. "Just win, baby!" might have been Al Davis' preferred rallying cry but it was rooted in truth and precedence. The Raiders were expected to win because they often won.
All of this matters now when you consider that the Raiders have already matched last year's win total and are poised to be competitive for the first time in five years, which is kind of a great thing for the NFL, right? The Oakland Raiders are back to being a thoroughly mediocre team, which is a hell of a lot better than they've been since 2003. They are far from being able to challenge the top dogs in the AFC, but that's OK because the core of players that have landed in Oakland are so talented and so perfectly suited to embody the Raiders' history of proficient excellence that it's hard not to be enthusiastic about what this season may promise.
Derek Carr was a second-round pick in 2014 who got the Peyton Manning treatment as a rookie, but not the kind where you throw 55 scores in a season. In 1998, Manning started all 16 games as a rookie and went 3-13; the exact same thing happened with Carr last year in Oakland. This season, Carr is beating out every stat from last year across the board. He's already got 11 TD passes to only three picks, and a large part of that success can be attributed to the arrival of former Alabama wideout (and Heisman finalist) Amari Cooper, who is the deep threat that makes this offense run, even when he's not catching deep balls. To cap off the Raiders' first-half scoring in San Diego, Cooper took a screen pass from Carr behind the line of scrimmage and took it 52 yards to the end zone, bending a few ill-prepared knees along the way. The defense is anchored by 18-yard veteran cornerback and future Hall of Famer Charles Woodson, back for his second go-around in Oakland, and defensive end Khalil Mack, the fifth-overall pick in last year's draft who now anchors what is the third-best rushing defense (84.3 yards per game) in the NFL.
The Raiders have young talent who don't know the limits of their own expectations and aging leaders who've been around the block a few times. There is so much time to like about this team. Even new head coach Jack Del Rio, who's back in charge of his own team after spending three years running Denver's defense, has found his rhythm again as a coach and instilled an on-field discipline into this squad. The old Raiders who would bumble their way to 17 penalties a game do not exist anymore.
What has been reconstituted is the bare bones of a team that is built to win for many years to come. Carr and Cooper look like a QB-WR tandem that could light up the division for years, and Mack will, in time, be a perennial Pro Bowler provided he can stay healthy. Maybe they're still a year away from contending for a division title, but if Manning continues his one-TD-a-game pace, it may not matter how well Denver plays defense. And if the Raiders can drop into San Diego and score 37, maybe they can compete next week when the New York Jets and their No. 2-ranked defense come west to O.co Coliseum. That'll be a game worth tuning into.