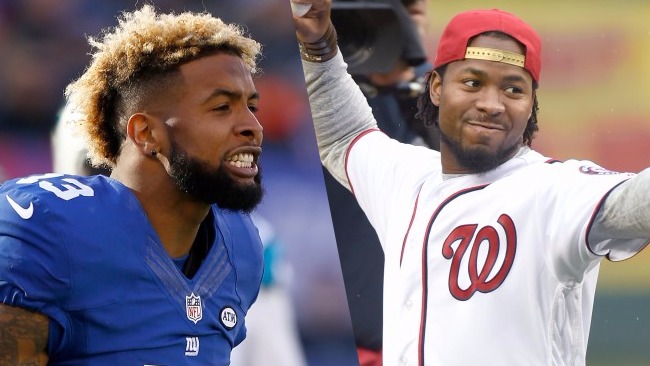 Odell Beckham, Jr. and Josh Norman probably have the most heated and entertaining player-to-player rivalry in the NFL, and the Giants wide receiver thinks that Norman is making sure to keep it that way… for his own benefit.
Beckham, Jr. is the subject of a new GQ feature in which he talks about house-sitting for Drake and takes pictures in outrageously expensive clothing (including $2,000 pants!), as one does when interviewed by GQ. But the most interesting portion of the piece comes when Beckham discusses that rivalry with Norman, the former Panthers cornerback who signed a huge deal with the Redskins this offseason.
See, when Odell Beckham Jr. talks about people making a name off him, he's talking principally about Josh Norman. This spring, after nearly winning the Super Bowl with Carolina, Norman signed with Washington, the Giants' NFC East nemesis, guaranteeing at least two Beckham-Norman face-offs each and every season. Washington won the division last season, is loaded with young talent, and gave Norman a deal worth $75 million to leave Carolina—but Beckham believes none of that is why he signed with Washington. Odell Beckham Jr. believes Norman signed with Washington because of Odell Beckham Jr.
There's seemingly plenty of reasons why Norman would have interest in the Redskins — mainly, they gave him $75 million — and maybe it's narcissistic for Beckham to think it began with him, but it's hard to argue that Norman benefits from two guaranteed matchups with Beckham every year.
The last time that these two faced each other, Norman successfully managed to get under Beckham's skin, enough so that Beckham would receive a one-game suspension from the league for his childish antics in response. But the Giants wideout also caught a late, game-tying touchdown over Norman in what was one of the most entertaining games of the year.
So, even if Norman's decision to sign with Washington was motivated by a selfish desire to use Beckham as a tool to stay in the spotlight, I'm sure the NFL and its fans have no complaints.
(Via GQ)