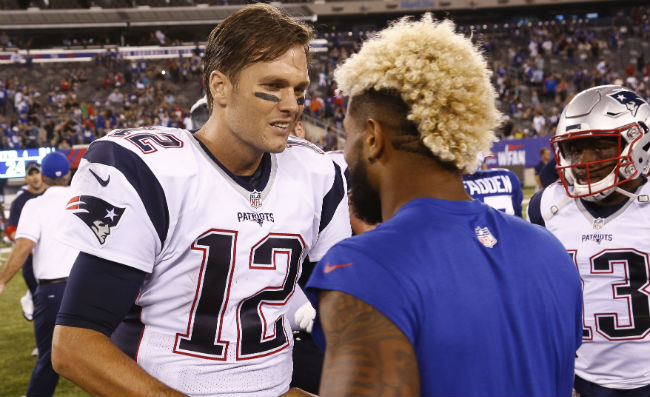 Odell Beckham Jr. may be known for his fiery demeanor on the field, but he has a way of nonverbally getting across his point these days.
Earlier this season, for example, he used touchdown celebrations to express his disdain for Donald Trump. In one celebration, he raised his fist. In the other, he pretended to be a dog peeing on a fire hydrant, alluding to Trump's comments where he called protesting athletes of color like Colin Kaepernick a "son of a bitch."
Though Beckham only admitted the connection in a single Twitter comment, to many it seemed clear what the message was. That's why it was not a real surprise that many thought something else was going on when Beckham posted a video comparing himself to Tom Brady on his Instagram page on Wednesday.
The caption was very complimentary to Brady, who he calls the "goat" here and says he's chasing him. Which is all well and good, but the content of the video itself is a collection of angry athlete moments from both players. The moments Beckham loses his cool, of course, he's gotten plenty of criticism for, while Brady's firey moments are often characterized as a sign of competitiveness and leadership.
Beckham doesn't address that juxtaposition at all in his post. Still, the video came at a curious time, as Brady was caught on Sunday in Orchard Park screaming at Patriots offensive coordinator Josh McDaniels after a punt.
It didn't make too big of a wave, which was pointed out a number of other of people: if other players in the league, especially athletes of color, made a similar scene on the sideline it would have been a much bigger story. In fact, Antonio Brown earlier this season became a huge in-season scandal when he acted out his frustrations on the sideline.
Much like the dog peeing touchdown celebration, Beckham has not explicitly said he's comparing the criticism he gets to the criticism Brady does not. But if he's trying to say what it seems like he's saying, it's a referendum of sorts on why so many people think he's a troublemaker when similar acts are taken to mean an entirely different thing altogether for other superstars.
It's also a sign that Beckham is a lot smarter than many people give him credit for. By once again pointing out things without actually saying anything, he's letting everyone else snitch on themselves instead of being controversial on his own.