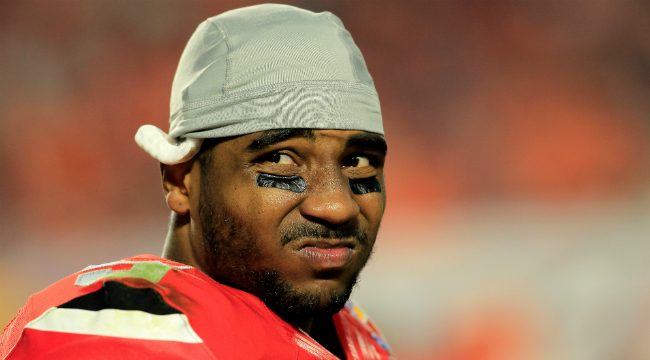 Approaching the 2015 college football season, Ohio State had one of the best, but still toughest, problems any team could have: three immensely talented quarterbacks who had all proven themselves to be viable starters in Braxton Miller, J.T. Barrett, and Cardale Jones. Yes, OSU is the envy of all the nation (and not just because they're the defending national champions), but they were still anticipating benching two QBs who had done nothing to deserve benching. It's a football version of the diner's conundrum — at a fancy restaurant with duck, steak and lobster on the menu, if you really want all three of them, but can only choose one, you'll still enjoy your choice, but you will feel a twinge of regret. What if the lobster was better than the steak, and you'll never know?
Now Miller, a fifth-year senior and the most athletic of the trio, has volunteered to make head coach Urban Meyer's decision a whole lot easier by switching to wide receiver or H-back, according to SI's Pete Thamel. Miller says he'll still practice with the quarterbacks some of the time, and expects to be deployed all over the formation like a previous Urban Meyer stud, former Florida Gator Percy Harvin.
Miller still isn't all the way recovered from the shoulder injury that kept him out of the 2014 season, and the switch allows him to get on the practice field sooner and learn a new position in the time that would have normally been spent rehabbing on the sidelines. It's a win-win for everyone, and should only make the Buckeyes offense more terrifying.
(Via SI)