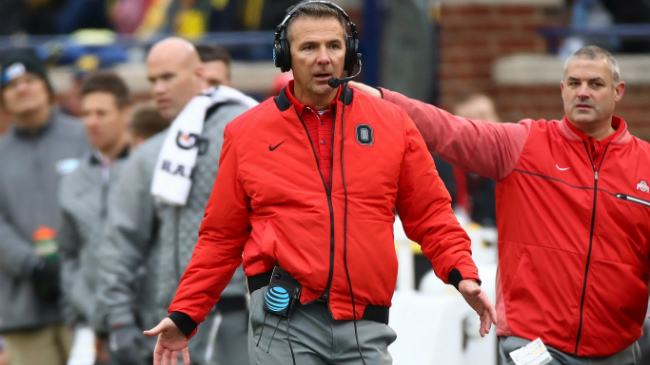 Entering Big Ten Media Days, the talk about Ohio State wasn't the Buckeyes looking to win the conference and make the College Football Playoff once again, but instead about the firing of wide receivers coach Zach Smith after his history of domestic violence was revealed.
Buckeye coach Urban Meyer insisted that he had not been aware of Smith's prior incidents that led to 9-1-1 calls from his now ex-wife Courtney, as no formal charges had ever been fired. However, Brett McMurphy released an interview with Courtney Smith, complete with text messages and images that she had sent to Meyer's wife Shelley, that showed that, in all likelihood, Meyer was aware of the incident back in 2015 and, possibly, in 2009 when Smith was an assistant under Meyer at Florida.
The entire report is well worth reading, but the most damning evidence are the texts shared between Smith, Shelley Meyer, and other wives on the staff that showed that at the least Shelley was well aware of the repeated issues of domestic violence in the Smith house, as well as evidence Meyer had spoken with Zach Smith about it.
Two weeks after the Oct. 25, 2015 incident, a Nov. 5, 2015 text exchange between Lindsey Voltolini and Courtney shows Meyer talked to Zach Smith about the incident.

Lindsey is the wife of Brian Voltolini, considered one of Meyer's most loyal staff members. Brian is Ohio State's football operations director and has been part of Meyer's staffs for 15 seasons at Bowling Green, Utah, Florida and Ohio State.

Courtney: "(Zach's) trying to make me look crazy bc that's what Shelley is saying (he's doing)"
Lindsey: "He (Urban) just said he (Zach) denied everything"
Courtney: "I hope urban is smarter than that"
Lindsey: "He (Urban) doesn't know what to think"
Courtney: "I don't really care. Ya know"
Lindsey: "Yeah, don't worry about urb"

Beyond that, Courtney Smith told McMurphy that after a 2009 incident with Zach in Florida, two of Meyer's closest confidants pressured her not to press charges against Zach. Courtney Smith also sat down for a full interview with Stadium about the history of domestic violence with Zach and what she felt Meyer was aware of.
Following the bombshell report, Ohio State was very quiet on the issue, but just after 6 p.m. ET, they announced Meyer was being placed on paid administrative leave and assistant Ryan Day would take over in an interim capacity.
Meyer released a statement saying this was in the best interest of the team until the university can conclude its investigation into the matter.