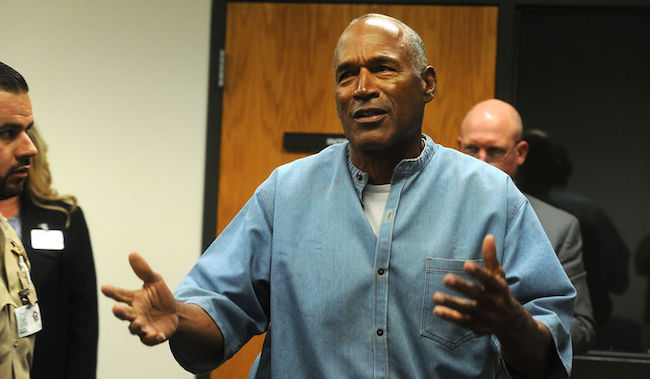 There are days when the truth is stranger than fiction. Before the Bills-Jaguars playoff game kicked off at 1 p.m. on Sunday, Orenthal James Simpson made reality rather weird indeed.
O.J. Simpson has managed to keep a fairly low profile since his release from a Las Vegas prison for his role in a 2007 armed robbery. Simpson had conspired to reacquire some items that he claimed was stolen from him, but was released in 2017 on good behavior.
Imagine the surprise of the internet when Simpson was seen all over the internet, having taken pictures with many members of Bills Mafia. At first, it was assumed that Simpson was actually in Jacksonville, hanging out in the tailgate area, which would have been especially strange considering he's on parole in Nevada. However, a little bit of internet sleuthing and Twitter search proved that Simpson was simply at a local Bills bar in the Las Vegas area.

It turns out that Simpson was actually at a Bills bar in Las Vegas called Moon Doggies, taking a vast amount of pictures with Bills fans. It stands to wonder what could be gained by the NFL Hall Of Famer to be seen out in public in a large swath of people as Simpson doesn't have the best reputation at the moment.
Perhaps Simpson was tired of being cooped up in a confined space in a city as large as Las Vegas, and he felt the need to go out to a local watering hole. Here's to hoping on Simpson's behalf that no laws were broken by doing so.