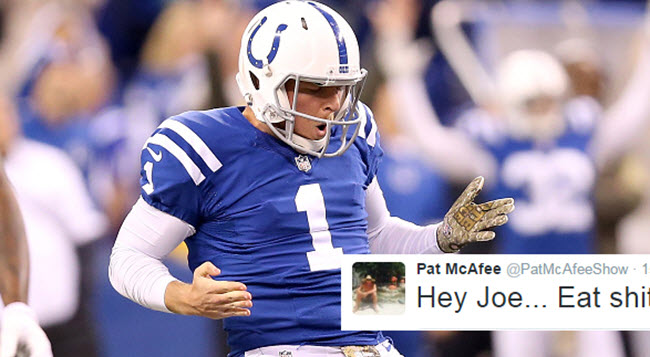 On Sunday, the Colts improved to 7-8 on the season with an 18-12 victory over the Miami Dolphins. They are "technically" still in the AFC playoff hunt, but would need a minor miracle to get in. ESPN put their chances at roughly 3,300 to 1, with 10 games needing to go in their favor. Suffice it to say, the Colts will be hitting the golf course next Monday.
Anyway, after their win Sunday, punter Pat McAfee took to Twitter to gloat a little because that's what Pat McAfee does. That didn't sit well with Colts fans, many of whom aren't happy with how the season went. After all, the team did play in the AFC Championship game just last year. This is more than a minor fall off.
And that's when Pat went in on this poor guy named @Indy_Joe (WARNING: Mildly colorful language).
As always, the lesson here is simple: Don't do that. And by that, I mean tweeting in general. Also, tweeting dumb stuff to athletes. Don't do that, either.