If you've watched any of this year's Stanley Cup Playoffs, you've likely seen the World Cup of Hockey ad featured above, starring Patrick Kane. After all, it's played just about every damn commercial break, making it pretty hard to escape.
The heavy promotion of the tournament makes a lot of sense considering the event is NHL-sanctioned and will be held for the first time since 2004 this fall. What makes less sense, however, is why the league would choose Kane to be the face of that campaign from the outset.
He's the same guy who dominated hockey-related headlines last summer after being accused of sexual assault. A woman from Buffalo alleged that, after a night of drinking at bar, Kane forced himself upon her after inviting her back to his house. Ultimately, Kane was never actually charged and went on to have a great season in 2015-16, putting himself in the MVP discussion with a career-high 46 goals and league-leading 106 points.
One can assume that his impressive season and status as one of the league's best players made him an attractive choice to the NHL to market the World Cup. But with the league behind the campaign and plenty of bonafide stars participating in the event, there are a bevy of qualified spokesmen who would make sense and cause less discomfort.
Zach Parise and T.J. Oshie are legitimate American stars, especially in the international arena, and among the first 16 confirmed Team USA roster members. They're also both handsome fellas who would fit nicely on your TV screen.
Instead, the league chose Kane, who's far from a good ol' "wholesome" candidate.
Again, the Blackhawks star wasn't charged with anything this past summer, and this is by no means a presumption of guilt or a stance that he should never be able to market anything ever again. But there's also no denying his checkered history — one that includes a 2009 arrest for beating up a cab driver — and even the accusations and investigations associated with his persona can be enough to turn off viewers. The NHL had safer viable options it chose to ignore — at least for now — and that's perplexing.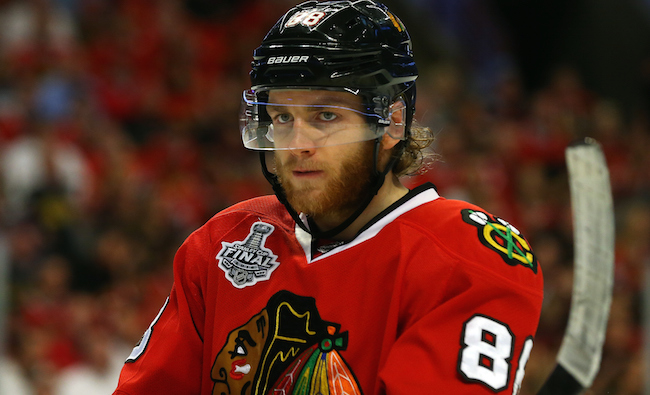 But beyond just Kane's selection, the ad raises eyebrows because of what it portrays. It features Kane being hit with questions from an interviewer who looks like he was rejected a role in Anchorman. Kane keeps ducking the questions, repeating the same canned answer over and over until the interview (and commercial) ends. If that sounds familiar, it should.
While that's often standard procedure for professional athletes who love to recite clichés 'til they're blue in the face, it's also very reminiscent of the scene when Kane showed up to Blackhawks camp during the ongoing investigation at the beginning of the season. Upon his arrival, Kane met with the media with the intention of taking hockey questions only. Wishful thinking. He was still peppered with inquiries about the sexual assault case, responding to each of them by telling the reporter he appreciated their question before dodging it and giving a useless answer.
That's a common practice for athletes, but if the NHL was hoping fans would forget about Kane's summer in the spotlight for all the wrong reasons, this commercial was a very poor approach. Whether the ad was written with Kane in mind or it was decided he'd be the right person to perform the script, it seems like someone should have considered raising their hand and asking, "Are we sure this is a good idea?"
And the answer to that question would have been pretty clear.