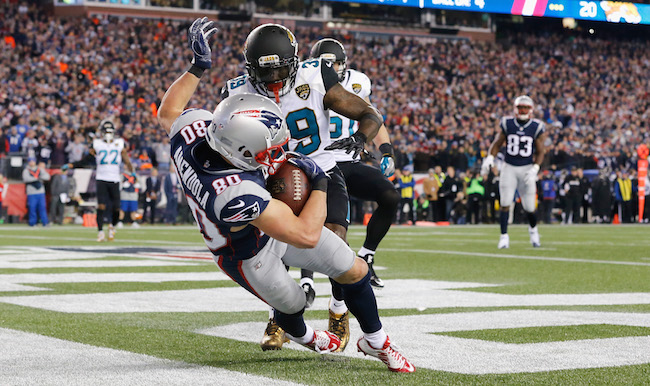 The Jaguars led the Patriots from the early second quarter all the way until there were three minutes to play in the game, with Blake Bortles, Leonard Fournette and the vaunted Jaguars defense dictating the pace for the majority of the contest.
However, as NFL fans have come to expect, Tom Brady led a pair of touchdown drives in the fourth quarter, with both touchdown passes going to receiver Danny Amendola. The three biggest fourth quarter plays for the Patriots all went to Amendola, starting with the first touchdown catch, but the final drive was on the back of a pair of ridiculous catches from No. 80.
A 20-yard punt return from Amendola set the Patriots up in great field position at the Jags' 30, and Brady targeted him twice on key plays on the drive. The first was a diving catch across the middle that put the Patriots inside the 10 yard line.

Two plays later, Amendola was the target of Brady on a broken play, using incredible body control to get both feet in bounds in the back of the end zone.
The Jaguars' final drive stalled out at midfield, with an incredible diving deflection from Stephon Gilmore stopping them on fourth down. A 3rd-and-9 run from Dion Lewis that went for a first down and big yardage sealed the win as New England was able to kneel it out.