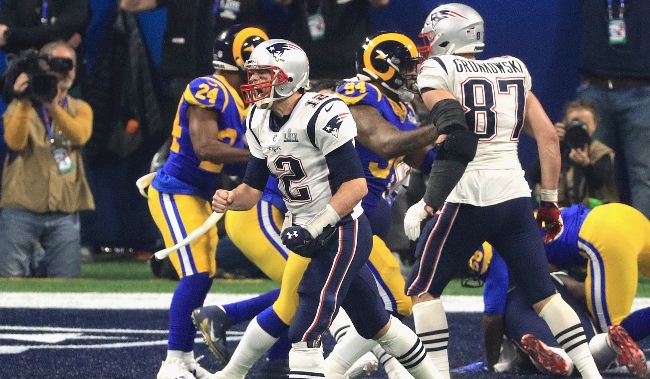 For the sixth time in the Tom Brady and Bill Belichick era, the New England Patriots are Super Bowl champions.
The Pats pulled out a win over the Rams in Atlanta on Sunday night in a game that can be best described as a defensive struggle, holding the Rams without a touchdown, while managing just one touchdown of their own in a 13-3 win.
Tom Brady wasn't his usual self in terms of picking apart a defense, but he still completed 21-of-35 passes for 262 yards and an interception (on his first attempt of the game). Brady's best throw came in the fourth quarter as he found Rob Gronkowski down the seam to get inside the five and set up the first touchdown of the game.

That touchdown was scored by Sony Michel, who punched it in on first down for the first and only touchdown of the game.
Michel finished the game with 94 yards on 18 carries, including a huge run to get the Patriots out of the shadow of their own end zone to kick off their game-sealing march.

For the Rams, the offense just never got going. Jared Goff struggled, completing 16-of-33 passes for 174 yards, but tossed a brutal interception on their best drive of the game with four minutes to play.
Todd Gurley was quiet as well, as he continues to not look right after coming back from his knee injury. The star back had just 10 carries for 35 yards, while C.J. Anderson wasn't any better with seven carries for 22 yards as the Patriots came out looking to make Goff beat them, which he simply couldn't.
The two stars of the game were, truly, the punters. Johnny Hekker was arguably the best player for the Rams as he had a few great punts, including a 65-yarder that ended up being the longest punt in Super Bowl history — which honestly wasn't even his finest effort of the game.

Ryan Allen of the Patriots had only five punts to Hekker's nine, but he was instrumental in pinning the Rams deep in their own territory a few times. The game was sealed on a Stephen Gostkowski field goal on 4th-and-inches from 41 yards out to go up 10 with just over a minute to go.
The 13-3 final is the lowest scoring total in Super Bowl history, shattering the 14-7 mark from Super Bowl VII.