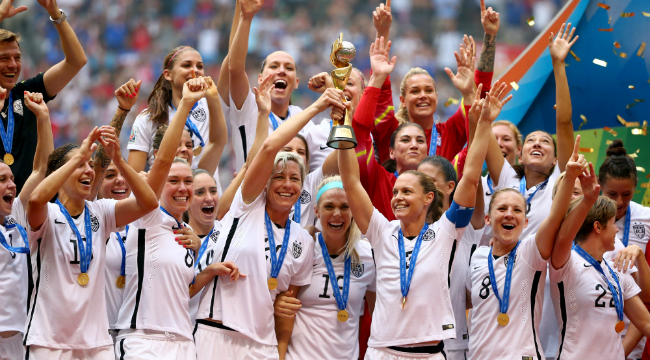 The 2015 Women's World Cup was a gigantic success in the United States. Not only did the U.S. Women's National Team win the tournament for the third time, but the final was the most watched soccer game in the country's history, as 25.4 million people tuned in to watch the Yanks take down Japan. That's slightly more than the viewership of Game 7 of the 2014 World Series (23.5 million viewers) and slightly less than the 2015 NCAA Tournament title game (28.3 million viewers).
Despite the bevy of national attention it received, this World Cup showed that there is still a gigantic gap between the women's game and the men's game, especially financially. According to Quartz, the United States and its players will take home way less money than Germany did after it won the 2014 World Cup.
The United States women's soccer team and winner of the 2015 Women's World Cup are paid pretty poorly. While professional male soccer players in the U.S. receive a minimum salary of $60,000 per year, players in the National Women's Soccer League can receive as little as $6,842.

The world-beating female team will also be rewarded for their win with a much lower cash prize than their male counterparts: Two million dollars compared to the $35 million that Germany's winning male soccer team took home last year, a discrepancy that has put the game under scrutiny before.
Quartz also pointed out that FIFA's issues regarding gender go much deeper than how much they pay players/countries. Women are outnumbered 8:1 on FIFA's executive committee, as it features 24 men and three women.
Considering the fact that the 2015 women's final featured more viewers than the 2014 men's final in the U.S., it's safe to assume that soccer is growing in the States. Hopefully this eventually means that the amount that female soccer players get paid also grows.
(Via Quartz and the New York Times)