Last Year: 11-5, won AFC North, lost hilarious playoff game to Baltimore after Ben got CTE and was put back in the game anyway.
Key Acquisitions: DeAngelo Williams (RB).
Not so Key Acquisition: Tajh Boyd (QB).
Key Losses: Brett Keisel's Beard (DL), Troy Polamalu's hair (S), Lance Moore (WR), Ike Taylor (CB).
Remember last year when, for two weeks, Ben Roethlisberger threw 12 touchdowns and the Steelers looked like an unstoppable force? Then they lost to the Jets? That was a fun few weeks.
Most of that incredible offensive potential has returned. Le'Veon Bell is one of the best backs in the NFL, and might be the best. Antonio Brown is fantastic. Big Ben is still a good-to-great QB. The only players the Steelers lost were the old-as-hell Troy Polamalu and the also old-as-hell Brett Keisel. There is a really good team potentially ready to take the NFL by storm this year.
And yet, things don't feel good. The preseason has been awful. Obviously, preseason means nothing. The 2008 Lions went 4-0 and the 2007 Patriots went 0-4. The Steelers lost the Hall of Fame game, then lost to the Jaguars (nobody's idea of good competition), squeaked out a win against the Packers (who are all dying) and then were completely ravaged by the Bills. The defense has been very suspect thus far, and if the Steelers have a major weakness, it's there. Their kicker situation was looking hopeless, but they just traded for Josh Scobee from the Jags, so they may be alright for now on that front.
But the suspensions are the other problem. Bell is suspended for the first two games. Martavis Bryant is suspended for four. To add to that, center Maurkice Pouncey hurt his ankle. He's not done for the season, but he's not going to be there for most of it.
They also picked up Michael Vick as insurance, which has caused a surprising amount of resistance from a fanbase that has no trouble championing a twice-accused rapist (Ben), a domestic abuser (Harrison), someone who once dealt drugs (Bettis), a Paterno apologist (Franco Harris) and just generally angry people (Tracy Porter).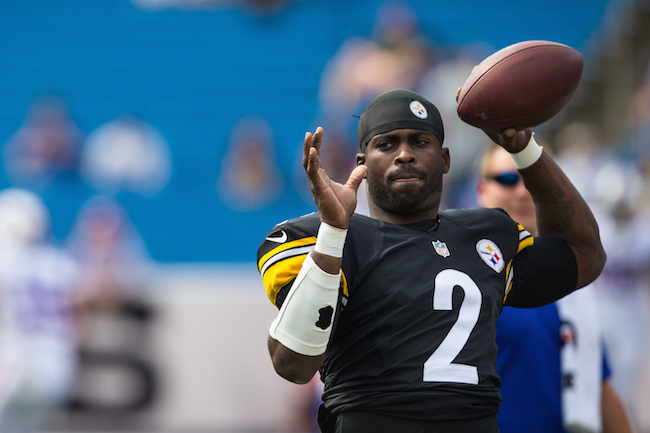 For this team's fan perspective, I asked some guy on the internet who goes by Mel Mudkiper what he thinks. This is what he thinks. As you read this, please consume pierogies and drink Iron City beer while furiously touching yourself in front of the statue of the Immaculate Reception in the airport.
Trying to predict the Steelers' chances of success in the season by looking at the strength of the squad is a fool's errand. Sure, we could talk about Le'Veon Bell's potential. We could talk about a rebuilt defense focusing on young players. We could take about the incredible consistency and accuracy of Shaun Suisham… wait. Anyways, the Steelers have never won a goddamn thing by being good. The secret to Steelers success is for the other three teams in the AFC North to sh*t the bed. Steelers dominating in the NFL is the default outcome of any season in which Cincinnati, Cleveland, and Baltimore are nothing special. That being the case, expect us to win our seventh Super Bowl and become a supernova of belligerent, obese trash-talking garbage. Cleveland is hoping a single good play by Johnny Football in the preseason has more merit than the entire previous season. Baltimore is like Samson with felons for hair, and having lost Ray Rice and Ray Lewis is barely a threat. Cincinnati is a team that should be good, but, as long as they carry around Red Rocket, they are the town that feared sundown. We got this.

Seriously, name a Pittsburgh squad that made it deep into the postseason on the merits of their strengths. You can't. Pittsburgh wins Super Bowls by letting their retarded Frankenstein of a QB chuck the ball into the air while getting pounced upon like an antelope in the Serengeti. They win by hitting the opposing QB so hard in the head that C, T, and E are permanently knocked out of his alphabet. They are a team somewhere between Inspector Clouseau and Dick Dastardly, a hybrid of incompetence and malevolence that somehow wins championships. I love this team.

Already, people are pointing out that we are on the bad end of an extremely difficult schedule. We are facing every Super Bowl champ and contender in the last three years. We are facing the living GEICO commercial Andrew Luck. We are facing the Raiders, who somehow seem able to beat us and literally no one else. But, as I said before, this falls perfectly into our plan. Pittsburgh dominates games they have no right to win. You could put Pittsburgh against Godzilla and I would feel sorry for that f*cking lizard. Where we are screwed is the easy games, and boy, we got some of those, too.

The less knowledgeable among us might think we are lucking out by getting New England sans Brady (result of appeal pending). They would be wrong. Remember when we were taking on the Tebow-led Broncos? If you forgot what happened, ask literally any internet commenter. Taking on New England at half-strength activates whatever weird bullsh*t spirit of Karma that follows us around and guarantees an opening loss. Expect Shaun Suisham to break his other leg. Expect Heath Miller to literally turn to dust. Expect Ben Roethlisberger to throw a pick directly into the arms of a Georgia prosecutor. Somehow, we will scrape by, though, beat a bunch of teams we have no business beating, and then somehow crush the NFC in the Super Bowl. Go Steelers.