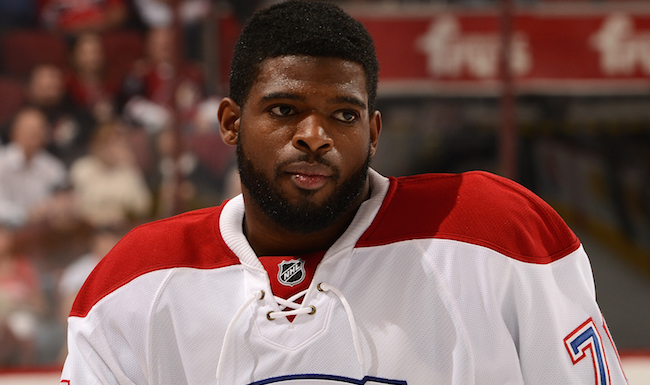 P.K. Subban has built himself a reputation of being great with kids, but one of his recent charitable endeavors took an ugly turn that resulted in a concussed baby.
The Montreal Canadiens defenseman decided to give out some souvenirs by tossing pucks into the crowd during Sunday's open practice at the Bell Centre. Unfortunately, one of those pucks was fumbled by an adult and wound up striking a one-month old infant in the head, knocking the baby girl unconscious. The baby was taken to Montreal Children's Hospital for evaluation, where she was diagnosed with a concussion.
Thankfully, the baby is expected to make a full recovery, and the team is trying to help out as best they can. Several Habs players reportedly visited her in the hospital before she was released on Monday, and the team is hooking the entire family up with tickets to watch a game at the Bell Centre from a private suite. (Though with the the way the Canadiens are playing this season, that may be more of a punishment.)
It'll be interesting to see if the Canadiens (and other teams) make any mandates to souvenir-tossing practices as a result of this incident. It was just a freak accident, but teams certainly prefer to limit their liability as much as possible.
As for Subban, it's pretty clear that he hates babies and will stop at nothing to harm them. Someone needs to stop him and serve up some justice. Wait, what? He pledged $10 million to the Montreal Children's Hospital last year? Fine, I guess he can get a pass on this one.
(Via National Post)