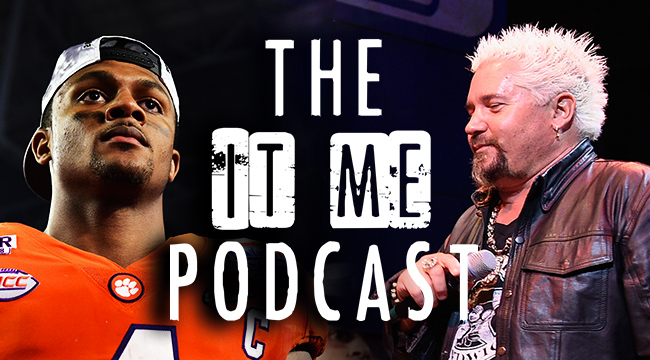 The 'it me' podcast is back this week with a special edition coming to you live from Flavortown. That's right, your favorite podcasters Robby and Martin (OK, maybe not favorites, but two podcasters you listen to) come to you live from the Vegas Strip at Guy Fieri's Las Vegas Kitchen and Bar in The Linq Hotel and Casino.
Joining the pod this week for some Vegas fries and sports discussion at Guy's were Dime Magazine and UPROXX Sports writer (among many other places) Brad Rowland and a pop in by CBS Sports NFL writer John Breech. Fair warning that there is plenty of ambient noise as this was recorded from a table in the middle of the restaurant, but considering we've had multiple requests for Robby to record more podcasts live from the golf course, you wonderful loyal listeners of 'it me' probably won't mind.
We discussed:
Reactions to Clemson beating Alabama
Martin's experience of watching it live from the stadium
Where does Deshaun Watson's performance rank in recent title game history?
Who should be the first quarterback taken in the 2017 NFL Draft?
Favorite parts of Diners, Drive-Ins and Dives
Best Guy Fieri-isms
How good the dang Vegas fries and Turkey sandwich were
Robby's move to UPROXX full-time
Best Vegas Sportsbooks
And much, much more!
As always, comments and tweets are welcome. Subscribe to us on iTunes, too! You can find Robby at (@rkalland) and Martin at (@martinrickman). Brad Rowland is at (@BTRowland). And John Breech is at (@johnbreech). Sports are great and so are friends, but sports are always better with friends.
Special thanks to the band Annabel for our intro and outro music. They're really good. You should buy their music at their website or perhaps see them play a show some time.