The Nashville Predators are in the Stanley Cup Final for the first time in team history and their fans are hucking fish all over the dang place. Even in Pittsburgh, where Game 1 occurred against the Penguins on Monday night.
A 36-year-old Predators fan took a Nashville tradition on the road, throwing a catfish onto the ice during the second period while the Predators were down 3-0.
He was kicked out of the game and, later, got arrested for the toss. If the whole catfish toss thing is unfamiliar, it's actually a Predators playoff tradition that started back in 2003. It's a spin on the Detroit Red Wings tradition of tossing an octopus on the ice.
Nashville is still sort of a new hockey town, but the place has fallen in love with P.K. Subban and company, especially this season. So the catfish thing is now a huge hit with fans, though the team hasn't said much about it officially. Here's one from a playoff game against the Coyotes where the catfish was actually alive.
So people in Nashville are celebrating hockey by paying upwards of $40 to strap a smelly fish to their bodies and throw it on the ice. Fun, right?
Well what about Monday's catfish? Well, if that big guy looks a bit more mushy than some other catfish you know, it's because it was bought in Tennessee and smuggled into the arena in a man's underwear.

Jacob Waddell, of Nolensville, Tenn., "obtained" the catfish in Tennessee and vacuum-sealed it, according to a criminal complaint.
He then hid the fish in his compression shorts when he entered PPG Paints Arena. Once inside, he went to a restroom, pulled the fish out, and then wrapped it in a free T-shirt and towel he'd received earlier until he could throw the fish onto the ice.
First of all, that's pretty amazing commitment to your craft. I've never shoved a catfish in my compression shorts but I can't imagine it's easy. In fact, Waddell appeared on the radio in Tennessee and described the very elaborate plan, which included running the catfish over with his truck.
On game night, he took the fish to his cousin's house, filleted it, cut out half the spine and ran it over with his truck. That made it easier to vacuum-pack and conceal … but not that easy.

"The head was too damn big," Waddell said. "No matter how much I ran it over with my truck, the head was too big."

That explains why it looks a bit less… whole than the other catfish that end up on the ice in Nashville. Most of those are smuggled in on the torso, which has a bit more room for the fish head than the crotch region.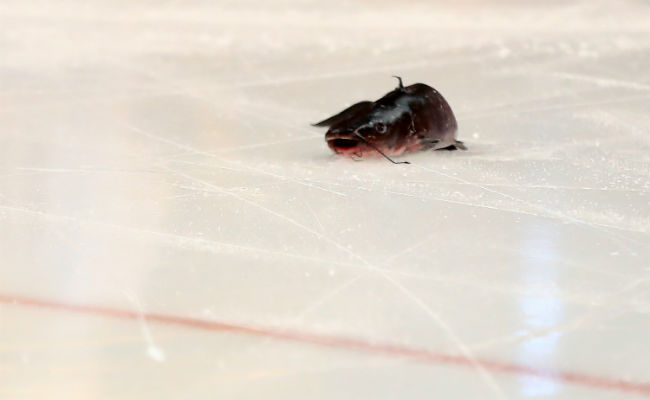 Waddell—who called himself a "dumb redneck with a bad idea" on the radio on Tuesday—was charged with disorderly conduct, possessing an instrument of crime and disrupting a meeting. Yes, the catfish was an instrument of crime. And the meeting was a hockey game. Waddell confessed to all of the above, so he'll likely spend the rest of his life in a Pennsylvania prison. (Or pay a reasonable fine.)