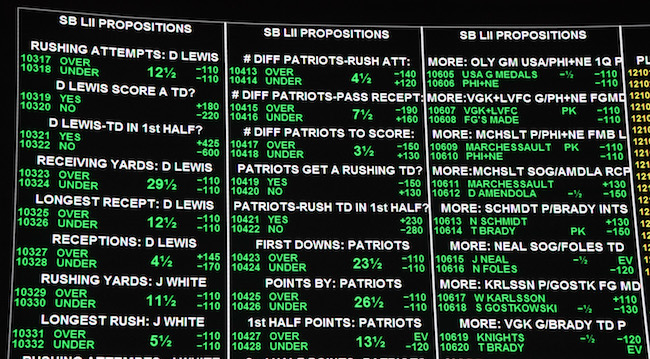 The Super Bowl is just hours away, which means you're probably getting ready to go to or are already at a viewing party. Super Bowl parties can be great, what with all the food and football and friends and beverages, but the way to take your Super Bowl party experience to the next level is with prop bets among friends.
Super Bowl props have become a huge part of the game, as Las Vegas takes in well over $100 million in bets on the game each year, with a generous boost from the crazy list of props you can bet on. Prop bets are in general sucker bets, but they're also really fun. The way I suggest you go about your props is by keeping it relatively low risk and among friends, rather than firing on the prop sheet and putting too much legitimate money on absurd bets.
Having a group of your friends all come over with $20 in ones (or a higher amount if y'all really feel like getting aggressive) and going head-to-head in random props can be one of the most fun ways to spice up the four-hour marathon that is the Super Bowl. You can take props from the various books that put out sheets or make up your own as the game goes on. For example, before a commercial break maybe throw a dollar down on which beer company or truck company will show up in that block, or just call out an over/under on yards before a random play and see who's willing to take the opposite side.
We'll look at a number of the props from Westgate (full sheet here) and those from Bovada (full list here), where you can find props on the halftime performance and more that Vegas isn't allowed to offer.

National Anthem: Over/Under 2:00
A classic and a great way to start off the night. This year's anthem singer is Pink, and it's a bit of a wildcard. Two minutes is a bit lower than it's been in recent years, but that makes me worry the over is a sucker play.
Coin Toss: Heads/Tails
Always be careful to listen to the ref explain what side of the coin is heads and which is tails, because the commemorative coin can otherwise get confusing.
How many times will the temperature outside be mentioned on the broadcast: Over (-400)/Under (+250) 1
This is a lock for the over, which is why this is now at -400 on Bovada. I'd at minimum juice this up to 2 or 2.5 if you're doing it among friends at your party.
Will Donovan McNabb's vomiting incident from Super Bowl 39 be mentioned on the broadcast: Yes (+170)/No (-250)
I don't see how the Pats and Eagles playing again in the Super Bowl doesn't lead to this coming up. Yes feels like great value here.

Gatorade Color: Lime/Green/Yellow (+225), Orange (+300), Red (+400), Clear/Water (+400), Blue (+400), Purple (+1000)
Everyone picks one, winner takes the pot.
Total Rushing Yards by Nick Foles: Over/Under 1.5
Over. Find you a sucker that will take the Under. This isn't college, sacks don't count against you and Foles rolls out enough he's destined for like 5 yards.
What will happen first: Eagles score (+140)/Eagles punt (-160)
What will happen first: Patriots score (EVEN)/Patriots punt (-120)
Fun ones for pregame that are easy to keep track of. I'll take the Eagles punt/Pats score combo play, please.
More Completions: Nick Foles (+4.5)/Tom Brady (-4.5)
This line is really good, but my gut say take Foles. Especially considering it's very possible Philly is playing from behind late.
Will Justin Timberlake be wearing a hat to start his halftime performance: Yes (-130)/No (-110)
I feel like you have to take Yes here if someone will go against you.
More receiving yards: Zach Ertz (+16.5)/Rob Gronkowski (-16.5)
Take Ertz plus the yards here.
Highest scoring quarter by both teams: Over/Under 19.5
Under and get ready for an incredible sweat in the second quarter.