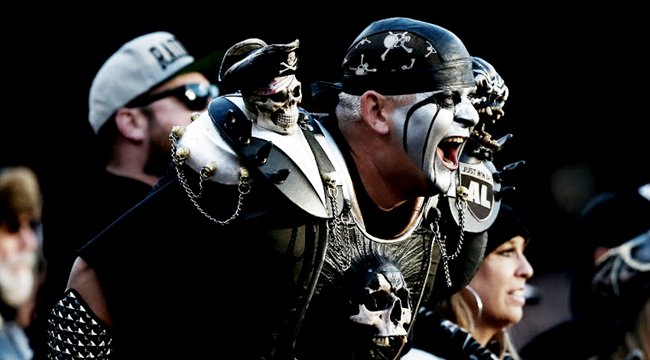 OAKLAND – NFL Films once proclaimed that "The Autumn Wind is a Raider." In 2017, winter is shaping up to be a cruel mistress, much like a fluttering Geno Smith pass into a swirling wind. This season's slate of NFL action will ultimately be remembered for protests and bickering with the President, which in the realm of social action isn't insignificant. Besides battling Trumpian forces, there's one major element that the NFL is hiding in 2017: the games are mostly atrocious.
When the schedule was announced, many prognosticators pointed to the Giants-Raiders tussle in Oakland being one of the marquee match-ups of the season's interconference schedule. Following successful 11-5 and 12-4 seasons respectively, expectations were high for Big Blue and the Silver and Black. So high, in fact, that I decided to book a flight up the California coast in anticipation of a game that could have massive playoff implications. At 2-9 and 5-6, 2017 has been a major letdown for both fan bases.
These two teams epitomize the unpredictable nature of the NFL. Teams rise and fall in a frantic nature, where they're equally likely to power towards a playoff berth or careen to a top-10 pick. There's no clear-cut top team — if anything, it would be the Patriots by default, because they're the Patriots — and mediocrity has bogged down the promise of many squads to nearly unwatchable levels.
The Giants' death march to 2-14 seems inevitable. Former New York GM Jerry Reese couldn't hide from an embarrassing draft record — in particular, the past half-decade, other than Odell Beckham Jr. and Landon Collins. The years of bad picks, poor free agent signings, and Ereck Flowers finally caught up with Big Blue.
On the flip side, Oakland seemed to have one of the more promising cores in all of the NFL heading into this season. Between Derek Carr, Khalil Mack and Amari Cooper, along with formidable role players, steady lines and strong depth, the team dug out of the rubble from the end of Al Davis' tenure to become relevant. This year has been a tougher climb than expected for the Silver and Black. Their record in one-score games last year was sterling, but this year things evened out, which is how they've already managed to lose more games in 2017 than all of last year.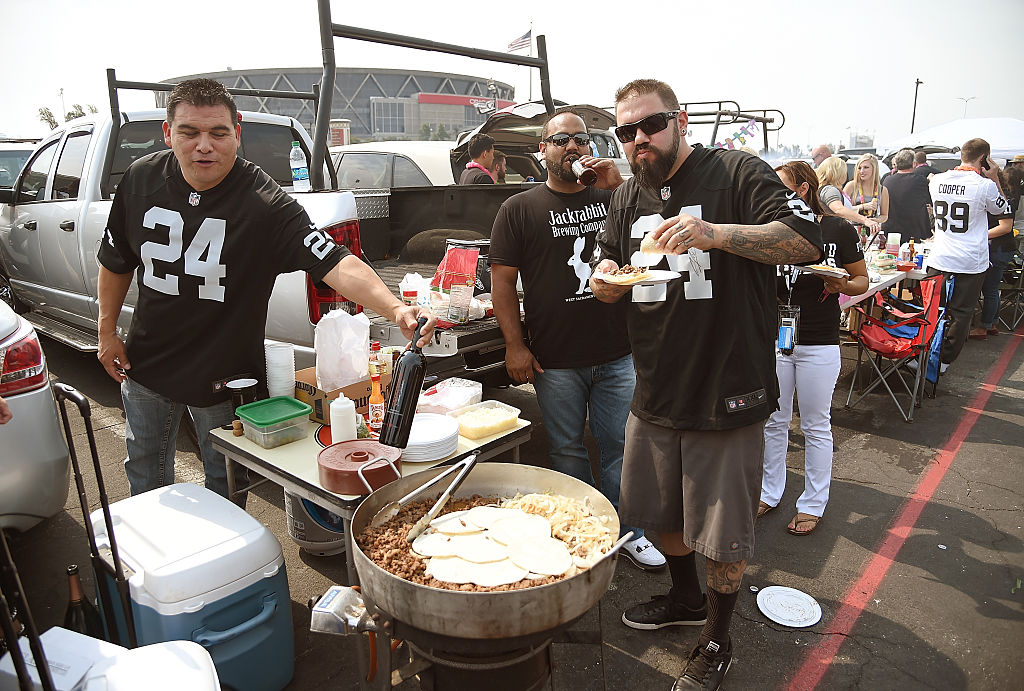 Roaming through the parking lot an hour before kickoff, Oakland-Alameda County Coliseum had the charcoaled smell of hope. Fans huddled around big-screen TVs perched in their cars watched the day's action while guzzling beers and barbecuing. Kansas City was in the midst of losing to the lowly Jets, thrusting the Raiders back in the mix of a suddenly tepid AFC West division that was once one of the league's finest. Denver cratered, and Kansas City is in the midst of an epic collapse, which has allowed the once-0-4 Chargers and Raiders the opportunity to take the division.
The Chiefs loss against New York added urgency and newfound hope for Raiders fans; two emotions that seemed impossible following a defeat to New England a few weeks ago in Mexico City.
The Raiders' impending move to Las Vegas in 2019 was the farthest thing from the Black Hole's mind when the teams took the field. Roars filled the Coliseum when Kansas City's defeat was broadcasted. As the Black Hole faithful filed in, a few characters from the section's colorful past were in attendance.
For the most part, the crowd was tamer than the Thunderdome set who populated the section during its intimidating rise. In fact, the area once populated by convicts, outcasts, and miscreants who might be background characters in a Hunter S. Thompson book has become tamer and more welcoming to opposing fans. Sure, there were a few older fans from when the Black Hole was THE BLACK HOLE, but many of those colorful characters from the past either didn't show up – or have gotten priced out of the area that costs in excess of three figures per ticket.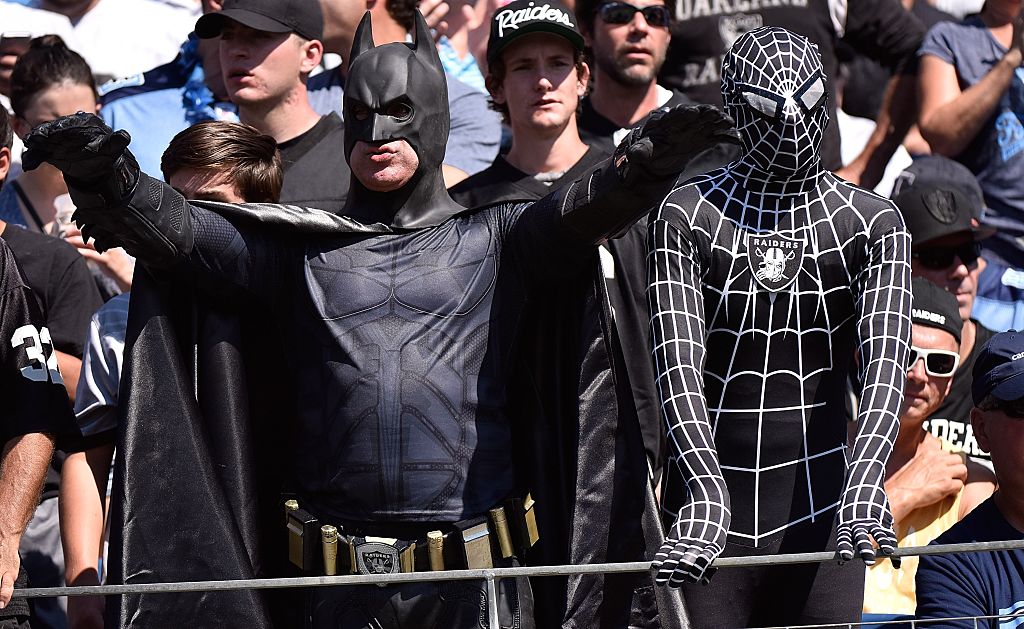 Experiencing the Black Hole used to be something opposing fans wouldn't dare enter. NFL Films — as is its wont — did a great job of mythologizing the Raider mystique, and hearing the team's theme song in its natural setting throughout the game was riveting and channeled the league's glory years. I dressed in neutral colors and wasn't hassled. Giants fans who wore jerseys were mostly alright, which wouldn't have happened under the older Davis' watch.
When the Giants took the field, led by a quarterback who was punched in the face by a teammate at his last job, Raiders fans couldn't help but snicker at the sad state of Big Blue.
The backlash to Eli Manning's benching earlier in the week riled up the team's buttoned-up fan base. A number of former Giants ripped the team for this cold-hearted display. It added drama to this game and turned Manning into a sympathetic figure, even among the Raider faithful, who was cheered his name ahead of the coin toss.
New York's former head coach, Ben McAdoo (who bears a striking resemblance to South Park's PC Principal), in a way, has become emblematic of the league's stodgy and unimaginative coaching hires. For every Sean McVay, there are five Ben McAdoos. The embattled Giants coach was the subject of scorn throughout the afternoon. "McAdoo, get a real f*cking haircut," one burly Raiders fan from the Black Hole screamed during a timeout. Another held up a custom "Fire McAdoo" jersey with the number zero. Why anyone would plunk down $100 for something so frivolous is a question for another day, and ultimately the money goes to the League — and to Giants ownership.

At day's end, Oakland's 24-17 triumph glossed over a poorly-played game where neither team could field their best receivers (Beckham Jr. and Brandon Marshall, Amari Cooper and Michael Crabtree). There were too many dropped passes and a handful of near-interceptions, penalty flags and a number of fumbles that were surprisingly high for a pro football game. Brandon Dixon, Johnny Holton, Clive Walford, Ross Cockrell and Calvin Munson are more likely to be auto-generated names in Madden than actual NFL players. That didn't stop the Black Hole from stomping and shaking the rickety stands on third downs, sacks or scores. Missing top-tier talent was something fans noticed whenever there was a dropped pass or near-interception.
Leaving the crumbling Coliseum, fans reveled in knowing that their team is locked in a three-way tie for the top spot in the AFC West. It was an ugly victory, but a victory nonetheless. Their team improved to 6-6 and now have a real shot at making the playoffs.
Meanwhile, McAdoo and Reese were shown the door Monday morning — the first NFL coach and GM fired in 2017 — following assurances they were safe until 2018. Nothing is for certain in the NFL, especially when two of its marquee teams are in varying degrees of disarray. With the Giants facing a total rebuild and the Raiders heading to Sin City, two fan bases are dealing with different degrees of impending disappointment.
Bleak futures, uninspired hires, and sloppy gameplay have become the standard instead of the outlier. Basically, it's just another Sunday in the 2017 NFL season.