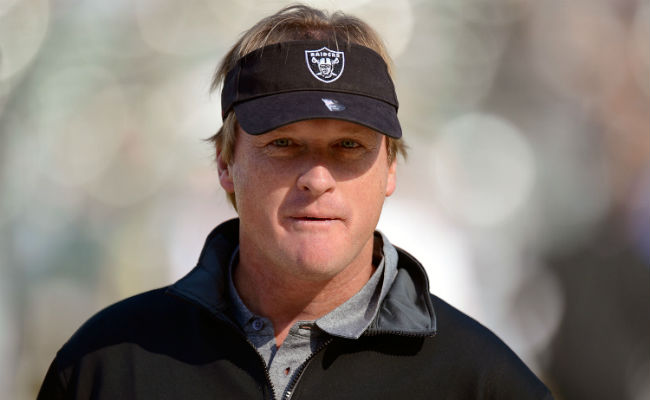 Jon Gruden is back coaching the Oakland Raiders, and he's a lot wealthier for it. Gruden's return to coaching football has long felt inevitable, and his hiring by the Raiders seemed obvious when the team hired Jack Del Rio after the 2017 regular season came to a close.
The terms of Gruden's new deal, though, are staggering. Not only is he the highest-paid coach in the NFL, as many assumed when the deal was being negotiated, but he's also got a deal tied for the longest contract in league history as well.
ESPN's Adam Schefter reported on Friday that Gruden's deal is expected to be worth close to $100 million, and he's also been given an 10-year contract.
https://twitter.com/AdamSchefter/status/949347222214381568
In a league where most coaches are given two to three years to really figure things out, a decade of Jon Gruden at nearly nine figures seems downright crazy. But the Raiders clearly believe in Gruden, who has stayed close to football since he left NFL coaching in 2009 after he was fired by Tampa Bay.
ESPN reported that Gruden will be introduced as head coach on Tuesday, and that his original compensation package may have included an ownership stake in the team.
Gruden, who coached Oakland from 1998 to 2001 and has been working as an ESPN analyst, is returning to the Raiders to replace Jack Del Rio, who was fired after the regular-season finale on Sunday.

ESPN reported Saturday that Raiders owner Mark Davis was prepared to pursue Gruden with a strong offer that could include an ownership stake in the team, which would have to be approved by NFL owners.
It's not actually the longest deal in league history, as there have been 10-year deals before. But not for a few decades at least.
What seems clear here is that Gruden will be given a lot of control in Oakland. He's the new face of the franchise (again), maybe even for as long as the term outlined on his contract.