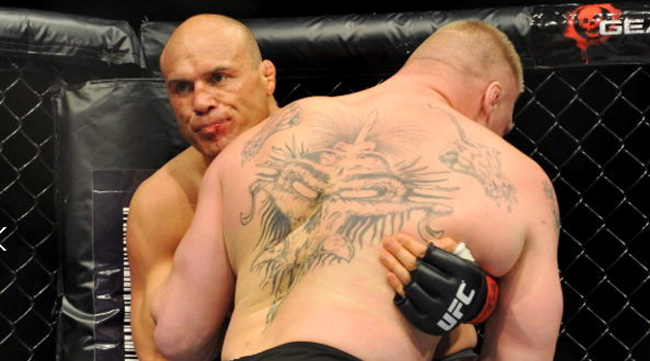 If anyone knows that UFC light heavyweight champ Jon Jones can defeat the much bigger Brock Lesnar, it's Randy Couture. Couture is a legend of MMA, partly because he himself moved up from the 205 pound division to take the UFC heavyweight championship at 45 years of age. He took the belt off the 265 pound Tim Sylvia and defended it against an equally monstrous Gabriel Gonzaga before finally being defeated by the even larger Lesnar. But Couture doesn't think Lesnar would enjoy as significant of a size advantage with Jones.
"He doesn't have to move very far, he's a big guy at light heavyweight anyway," Couture told TMZ Sports when asked about Jon's chances. "I think he walks around at 230, 240 when he's not in training camp getting ready to fight at 205. That's bigger than I was when I fought Lesnar."
Talk of Jones facing Lesnar heated up after the UFC champ called him out at UFC 214, saying "Brock Lesnar, if you wanna know what it feels like to get your ass kicked by a guy who weighs 40 pounds less than you, meet me in the Octagon!" Lesnar responded and sounded more than willing, but a USADA drug suspension means the earliest a fight between the two could happen is spring, and that's right around WrestleMania.
"I don't think there's any doubt about [him winning]. He can compete with Lesnar. He's long, rangy, a great wrestler, very good and dynamic at striking. He's got all the tools he needs to compete with Lesnar. He's gotta get some very big partners and get used to worst case scenario, Brock Lesnar gets on top of him, he's gotta be able to survive that."
Couture actually survived Brock getting on top of him in their fight, a testament to his NCAA wrestling pedigree. But a ham sized fist upside the head finished him off in the second round. That's the wildcard with Lesnar: he's so big and powerful that even his less than stellar striking can still knock you stupid.
But that isn't stopping fans and Vegas bookies from pronouncing Jones the favorite in this fight. Lesnar wouldn't be an underdog to the same degree as Conor McGregor against Floyd Mayweather, but it'd be close. At this point, I suspect that's the biggest reason why this fight may never go down: for all the money it'd make Lesnar, it involves a very, very high probability that he'd get his clock cleaned in the cage.