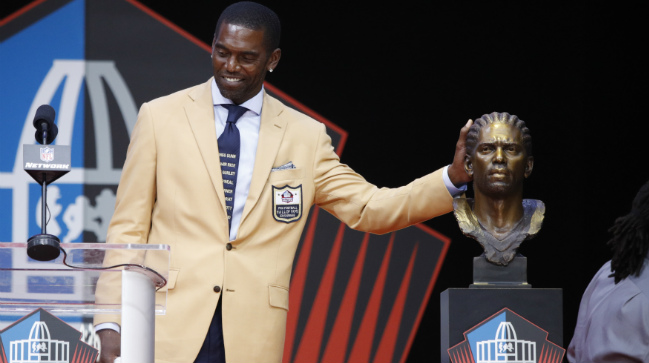 The 2018 Pro Football Hall of Fame induction ceremony took place on Saturday night, with the absolutely loaded class getting immortalized in Canton. On the defensive side of the ball, players like Ray Lewis, Brian Dawkins, and Brian Urlacher received busts in the Hall of Fame. On offense, Terrell Owens got the call to make it in.
But around these parts, the name we're most excited about is Randy Moss, who was so much fun. Moss was an absolute monster who made defensive backs look helpless when he turned on the jets, and when he got a step on a defender and threw his hand in the air, more often than not, it was all over, and he was going to score a touchdown.
Moss' speech, like many of the others during the evening, was fantastic. At one point, the four-time first-team All-Pro selection shouted out his hometown of Rand, West Virginia, and let West Virginians know he's visiting on Sunday with his gold jacket.

Additionally, Moss spoke about his relationship with Bill Belichick, showing love to his coach from 2007-10.
"Bill Belichick, I'm not gonna forget about you," Moss said to a less-than-receptive crowd about his former coach who decided to wear flip flops to the ceremony, ostensibly to let his toes breathe. "I wanna thank you for being a friend when it wasn't always about football. You showed me how much I loved the game, you challenged me every day to go out there and be great, you challenged me to be great, coach. And I'm sorry we did not bring it home. All those individual awards don't really mean anything to me. Football is a team sport, football is a team sport."

Here's a video of Moss' full speech if you're interested in checking it out. If not, feel free to watch that super long video of every 40+ yard touchdown from his career.
Randy Moss rules.