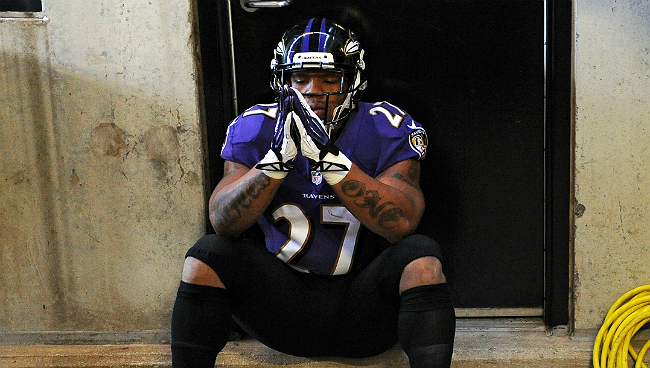 After being out of the league for a year now, Ray Rice has made no secret of the fact he'd like to make a comeback in the NFL. He missed all of the 2014 season due to a suspension after footage emerged of him knocking out his then-fiancee, Janay, in an elevator last February. Now he is hoping for another chance with any team willing to give him one, telling ESPN's Jemele Hill on SportsCenter earlier this month that he's a rehabilitated man.
It remains to be seen if any team will be willing to take a flier on him, but one team has at least discussed the possibility… the Cleveland Browns. With three young running backs on the roster not exactly tearing it up in camp so far this year, head coach Mike Pettine admitted that the subject of signing Rice has at least been brought up.
"Of course it's a natural question here because of [Browns running backs coach] Wilbert [Montgomery], and because I was with Ray when he was a Ravens rookie and know a lot of people in Baltimore. Obviously Wilbert was his position coach for Ray's first six years in the league. I'm not going to say it didn't come up in discussion, but at this point we're not there yet."
Rice is only 28, so it's possible he could still provide value to a team willing to look beyond his past off-the-field transgressions. Then again, his most recent season in 2013 was by far his worst as a professional, where he averaged only 3.1 yards per carry, and failed to reach 1,000 yards rushing for the first time since his rookie year in 2008.
(Via Sports Illustrated)