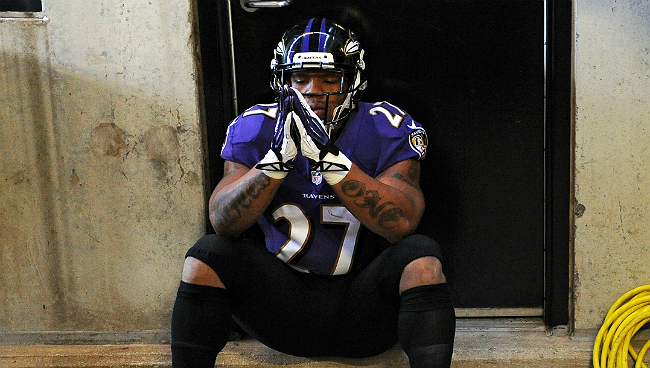 Training camps across the NFL have started back up. Perhaps not coincidentally, former Baltimore Ravens running back Ray Rice did an interview about his past domestic violence incident on the World Wide Leader. Rice, who was cut by the Ravens and then suspended by the NFL last year after video showed him knocking out his then-fiancee Janay Rice, told ESPN's Jemele Hill on Tuesday that he's a rehabilitated person looking for a second chance:
I have a lot of hope and faith that I'll be able to hang 'em up the right way. That's what's keeping me going. That's what's keeping me working. I don't think anyone questions Ray Rice the football player.

…

I always preach one or two bad decisions, your dream could become a nightmare. Well, I had to eat my own words. I truly lived the nightmare. And there's no set in stone whether you're going to get a second chance or not, but like I said my hope and faith and everything else that I'm doing in my life I'm just really hopeful for a second chance.
This isn't the first time Rice has talked about what happened, and to his credit, he sounds remorseful, for whatever that's worth. He still won't get a lot of sympathy, if any, but the concept of second chances is an interesting next step in the evolution of the NFL's stance on domestic violence (and violence toward women in general). Though suspended four games (down from 10), Dallas Cowboys defensive end Greg Hardy is still on a team.
Meanwhile, Rice is a 28-year-old running back trying to re-emerge in a league that has devalued that position in recent years. In 2013, Rice's last season, he averaged 3.1 yards per game and scored four rushing touchdowns, the lowest numbers of his career since his rookie season, while dealing with a hip injury. Rice may very well get his second chance, but while his off-field situation will be considered, so too will the arc of his playing career.
Which makes one wonder exactly how much progress we've made.
(via ESPN)