On April 9, Manny Pacquiao will step into the ring against a TBA opponent for what is widely believed to be the final fight of his career. That night will be the culmination of a whirlwind career for the Filipino superstar, starting way back in 1995 and transcending the sport he calls home. Today, Manny turns 37 years old, so to celebrate, here are 37 reasons why we love the fighter known as Pacman.
1. He Loves Dogs

Manny wrote in his biography that he ran away from home in anger after his dad killed and ate his dog. That drove him to Manila and boxing.
2. He Turned Pro At Just 16 Years Old
There is some debate here. Freddie Roach has said he turned pro at 14, and others have said 17. The BoxRec records say 16. Either way, fighting adults, professionally, at any age under 18 is badass.
3. He Stuffed Rocks In His Pockets To Make Weight

In fact, whatever age Manny was, he was still tiny. So small, in fact, that legend has it he'd secretly stuff rocks into his pockets during weigh-ins just to make the minimum weight limit of 105 pounds.
4. He Once Did This To Antonio Margarito's Eye
5. The Sh*t-Eating Grin During This Entrance
6. Before He Landed This Punch
7. Which Is Even Better In Slow Motion
8. And Made For Some Amazing Photos
9. His Incredible Sense Of Timing
10. He Did This To David Diaz's Face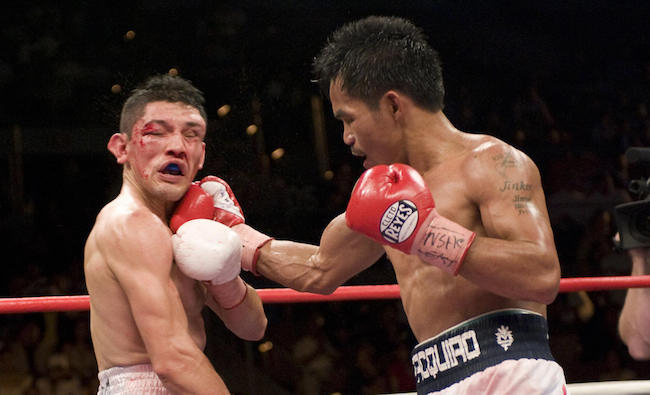 11. With This Savage Beatdown
12. He Loves Basketball And Even Played In A Pro Game In The Philippines
13. Someone Made This Movie About His Life
14. He Starred In This Superhero Movie
15. This Is His Mom

16. He's A, Umm, Passionate (?) Singer
17. Which Was Enough To Earn A Drake Parody
18. He Is Inspired To Fight By Bruce Lee
Via The New York Times:
Last month, as Pacquiao molded his style specific to Shane Mosley, his welterweight opponent on Saturday in Las Vegas, he wrapped his hands inside the dressing room at the Wild Card boxing gym here. To explain the way he fights, he settled on three words.

"Like Bruce Lee," he said.

Growing up in the Philippines, Pacquiao studied Lee, watching his movies on endless loops. He still often views his collector's set. "Enter the Dragon" is his favorite. His conditioning coach, Alex Ariza, says he believes Pacquiao built his baseline movement off Lee's template, the continual attacking, the feet drummed in and out.
Pacquiao, who fights Shane Mosley on Saturday in Las Vegas, watched the films of Bruce Lee, pictured, while growing up. Credit Bruce Lee Foundation
"Bruce Lee jumped around and kicked his feet and shook his head and shoulders," Ariza said. "His feet moved in concert with his hands. He could be choppy, but he was rhythmic. Manny does the same thing. It comes from that."
19. He Did This To Oscar De La Hoya's Eye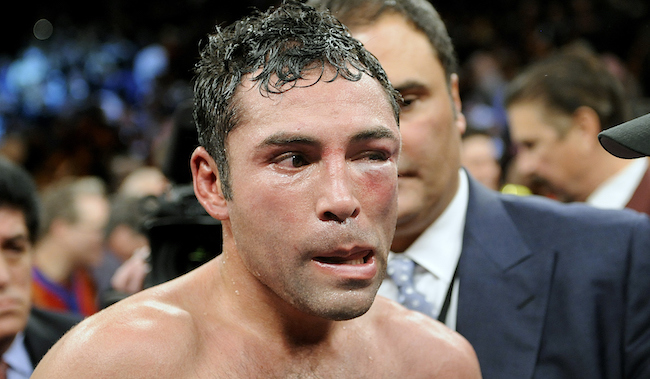 20. This Commercial
21. And This One, Too
22. This Is His Ugly Jump Shot
23. He's A Family Man
24. This Selfie Before The Biggest Fight Of All-Time
25. This Photo That Every Short Guy Has Taken At Least Once
26. The Time He Knocked Out "Floyd Mayweather" In This Commercial
27. He Knocked Out Erik Morales, Not Once
28. But Twice
29. The First Round Against Juan Manuel Marquez
30. He Once Dropped A Freestyle In Tagalog With Apl De Ap Of Black Eyed Peas
31. The Dance He Made Miguel Cotto Do With This Knockdown
32. The Face He Made Shane Mosley Make With This Knockdown
33. His Reaction To This Shane Mosley "Knockdown"
34. Every Time He's On Jimmy Kimmel Live

35. But Especially His Duet With Will Ferrell
36. The Time He Played Ball With Charles Barkley And Reggie Miller
37. That Time He Became A Professional Wrestler