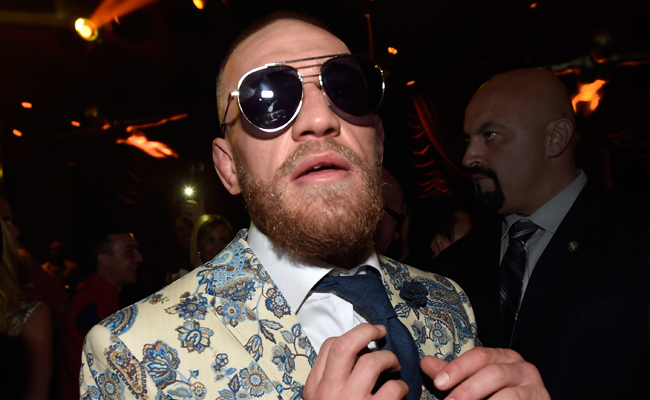 Over the past couple of months Conor McGregor has been in the headlines for all the wrong reasons. There was that incident at UFC Gdansk where he was caught on a hot mic repeatedly calling another fighter a f*ggot. The Bellator event in Ireland when he jumped into the cage and shoved a referee.
And now there's a whole lot of tabloid talk floating around that he beat someone up in a pub and may have even punched a member of the Kinahan drug cartel.
Both the Irish Daily Star and the Irish Independent are repeating the story but keeping McGregor's name out of it. "Well-known Irish celebrity punches cartel associate in Dublin pub," the Independent article's headline reads. The article later refers to the person as a "sports star."
A well-known Irish celebrity has assaulted a close associate of a senior Kinahan cartel henchman in a south Dublin pub. During the row, a man in his 50s with close links to convicted drug dealer Graham 'The Wig' Whelan (35) was punched. Gardaí are aware of the incident, which happened on Sunday night, but no complaint has yet been made.

It is understood the sports star attempted to assault another young man in the pub, when Whelan's associate attempted to intervene before being punched twice in the face. This man, aged in his late 50s, has been described as a "completely innocent" individual who has no involvement in criminality. He is also understood to have punched another young man once in the head during the melee. This individual was then ushered out of the pub and was driven away from the scene.
So here's your big old grains of salt: given these news outlets' unwillingness to name McGregor, there's still no confirmation that he was actually involved in an assault at all. The idea that a gang member of significant stature was involved is just a rumor right now. And of course the possibility that the gang is now after McGregor (with one tale claiming they want $900,000 in restitution) is even more conjecture off a rumor based on an unconfirmed event.
But given McGregor's somewhat erratic behavior recently, it wouldn't be all that surprising to learn that any of this is true. Stories of him fighting at pubs and afterparties aren't unheard of, and McGregor himself has posted photos of his busted knuckles after a rowdy weekend out.
We'll have more on this as details emerge.