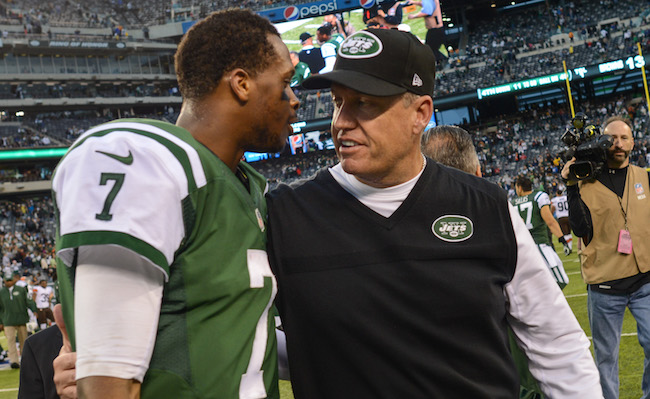 Rex Ryan and Geno Smith haven't been in the same locker room since 2014, as the former Jets coach has since had a failed tenure in Buffalo before heading to ESPN as an analyst and commentator, while Smith lost his starting job with the Jets and has since moved to New York's other team in the Giants.
When Eli Manning was benched by the since fired Ben McAdoo in order to give Geno Smith a look as the starter, there was tremendous uproar from Giants fans and former players, as well as general laughter from fans around the NFL. Smith was not good with the Jets and for McAdoo to end Manning's consecutive starts streak to see what they had in Smith seemed like a desperate and, likely, poor decision.
Among those to scoff at the decision to turn the keys over to Smith was his former coach, who said it was a "slap in the face" to Manning to be benched for Smith and that he wouldn't want Smith to be his quarterback. Those comments got back to Geno, who torched Ryan, calling him a "coward" and noting he and others on the Jets saved his job, via the New York Post.
"I did see one of my ex-coaches say he didn't want me to be his quarterback, and that really upset me, you know?" Smith said, stone-faced. "A guy that we saved his job in 2013, when we fought our ass for him both years. For him to go and say that shows how much of a coward he is."

Since then, McAdoo has been fired and Manning has gotten his job back, but if you thought Ryan would turn the other cheek so to speak and avoid going back after Smith then you clearly haven't paid attention to anything Rex has done, well, ever. On Sunday NFL Countdown, Ryan started out saying he was 54 years old and wouldn't respond, but just couldn't help himself and took a shot at Geno by picking up a marshmallow and saying "this might be Geno's chin…that chin's a little soft."
This would seem to be in reference to the time Smith had his jaw broken by a teammate who sucker punched him in 2015. It's not surprising Ryan would go for the low-hanging fruit for a jab back at Smith, but it's still not a great look. Former Giants kicker Lawrence Tynes didn't take well to Ryan's shot at Smith and called him out for it.

We'll likely have to wait for after the Giants' host the Cowboys for any kind of response from Smith towards his ex-coach's latest comment.