[protected-iframe id="dea38aa475de277e9916bf8686537d56-60970621-3039052″ info="http://wjla.com/embed/sports/washington-redskins/watch-rgiii-sits-down-for-a-revealing-end-of-camp-interview" width="650″ height="360″ frameborder="0″]
As training camp wound down and the first week of NFL ACTION (sorta) began, RG3 sat down for an interview with Washington area news channel WJLA to talk football, life, and unmerited exclamations of confidence. Griffin claimed that he has a more cynical view of football now, and he finally understands that it is a giant business that uses athletic folks like him to make money for old rich white people.
However, this new understanding of his profession and being a father certainly hasn't diminished his almost irritating level of confidence. In the interview, RG3 goes on to exclaim…
"I know I'm the best quarterback on this team. I feel like I'm the best quarterback in the league and I have to go out and show that."
Now, obviously, RG3 isn't going to go into an interview and say, "Nah, I'm actually a has-been first round draft bust with maybe two untorn knee ligaments left after being mis-coached by Shanahan," but this is still a pretty bold statement by a guy who hasn't been good since most of his rookie year.
RG3 probably genuinely does believe he is the best. Some other things RG3 still believes have been gathered into a book called Sh*t RG3 says.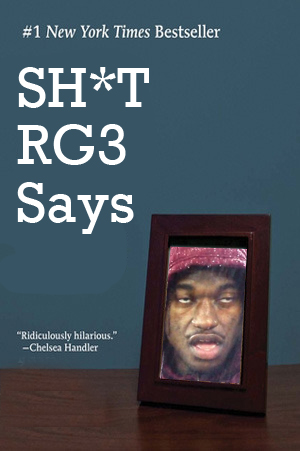 Some excerpts:
"Subway totally doesn't regret sinking all that marketing money into me."
"Redskins isn't a slur."
"Stop laughing at me."
"No, Dan Snyder is actually a good person."
"I'm not a broken has-been."
"I actually enjoy eating Subway food."
"My knee feels fine."
"Mike Shanahan was a good coach."
(Via WJLA)