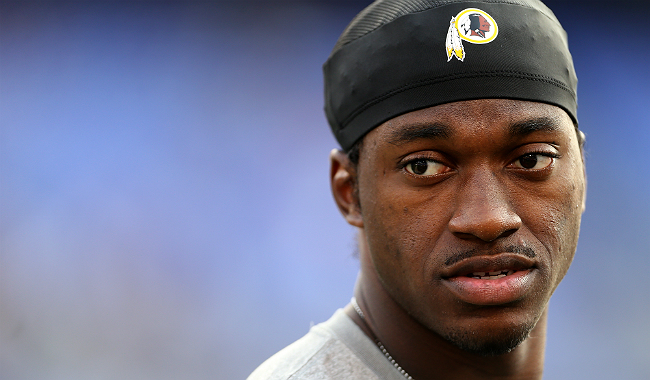 Three years removed from being the savior of a starved Washington football fanbase, Robert Griffin III was finally, mercifully, stripped of his starting quarterback title by head coach Jay Gruden on Monday. It was an embarrassing reminder of the dysfunction in D.C., which has plagued this franchise since Dan Snyder took it over.
Fans, like me, wondered how this team manages to continually hit new lows when a new low seems impossible. Frustration over this latest drama flooded out of those who have, for whatever unknown reason, continued to support them. Some talked amongst themselves — my friend and fellow fan texted me asking if there was somewhere to mail back all our Redskins apparel or if we should just burn it.
Others took to social media, like xtramambosauce:
These are mostly valid points. RGIII deserves some blame for what's happened to him, but mostly, this whole thing just seems like a toxic relationship that was doomed to fail. And it seems RGIII himself agreed with that by "liking" the Instagram post from his official feed, which seems like a very bad idea:
But because nothing is as it seems in all this mess, RGIII later posted this Instagram, claiming it was an intern who "liked" the post bashing the team:
https://instagram.com/p/7E0i2EPedr/
The football savior is now apologizing for an intern's social media gaffe while wondering if he'll be the second-string, third-string, or on another team entirely. This is how the Redskins will enter the 2015 season.