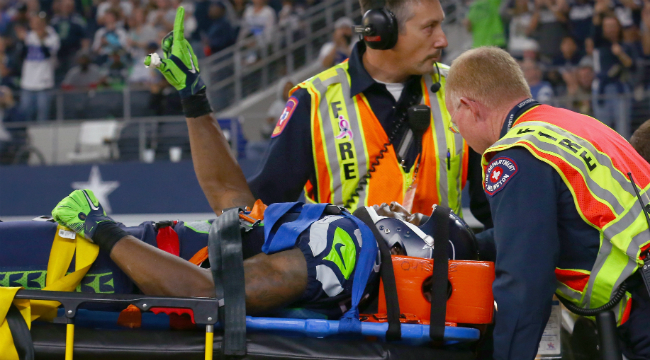 Last November marked one of the more sobering moments in recent NFL history when Seahawks receiver Ricardo Lockette was on the receiving end of a devastating collision on a punt return. After several minutes of lying on the field, Lockette ended up being carted away and the initial report was that he had suffered a concussion.
Of course, we know now the injury was much, much worse. Lockette required neck surgery and was far closer to dying right there on the field than anyone could have realized. Those types of collisions can be described as career-ending, and as it turns out, that's exactly the case here. Per Ian Rapoport of NFL Media, Lockette is announcing his retirement from football. On Wednesday, Lockette posted this cryptic photo on Instagram:
The extent of Lockette's injury is as bad as one can imagine. Ed Werder of ESPN reported that, six months later, Lockette is still unable to rotate his head:
Everybody knows football is a violent game, but injuries like these are a reminder of just how brutal, and life-changing, it can be. Lockette's description of the injury confirmed as much:
And he said, if I were to have stood up then, the weight of my head, left, right, front, back, I would have died. If one of my teammates would have came over and pulled my arm, just barely, I might have died. If the returner at the time would have broken a couple tackles, and they would have moved and fell on me, I would have died on the field.
Lockette clearly didn't have a choice when it came to this decision. Hopefully his life will be able to return to some semblance of normality sooner rather than later.