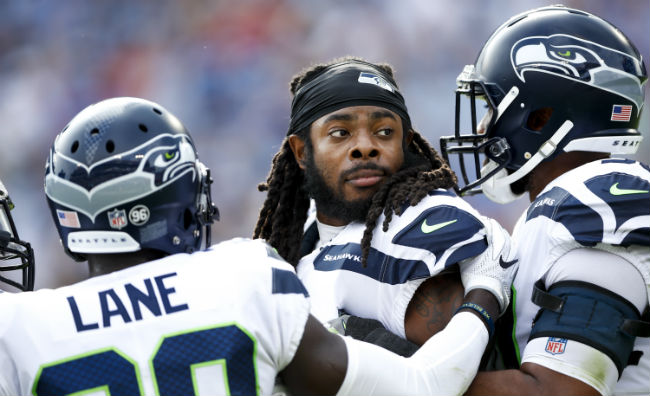 Add Richard Sherman to the list of people who think fantasy football is warping fans' perspective of the National Football League. The Seattle Seahawks corner spoke out after the Seahawks' Sunday Night Football win over the Indianapolis Colts.
Seattle won in an eventual blowout, but they lost quite a few players to injury on Sunday night. Defensive end Cliff Avril, cornerback Jeremy Lane and offensive lineman Rees Odhiambo were all injured in the game, but the injury fans perhaps reacted to the most was the injury suffered by rookie running back Chris Carson.
Carson's leg was twisted on a tackle and was carted off the field, his leg in an air cast. It didn't look good for the rookie, and after the game Seahawks coach Pete Carroll said the back should miss time with a "significant" ankle injury.
Sherman spoke to the media about the injury and extrapolated from there, pointing out that the perception fans have for injuries is not about the well-being of the player themselves, but their productivity for the team and — most importantly — their fantasy football team.
"This is really devastating. I think a lot of people, a lot of fans out there have looked at players less like people because of fantasy football and things like that. You go and say 'Oh, man this guy got hurt.'

"But you aren't thinking 'Hey man, this guy got hurt, he's really physically hurt and he is going to take some time to recover and it's probably going to affect his mental state and now he has a long rigorous rehab.' You are thinking, 'Oh man, he's messing up my fantasy team.'

"They don't care about how it affects your fantasy team because they are really players — this is real life. This is real life and this is their real job. that is affecting their well-being. Now your fantasy team may not win and hey, guess what? You'll live the next day. This is their well-being. They may not ever get another shot. They may never get another down, another play."
Sherman's far from the first person to lament this change in perspective, but perhaps no one else has said it so eloquently. Players have addressed it on Twitter when their mentions are flooded by fantasy owners who feel jilted, but Sherman's complains here means they also register as false far away from social media.