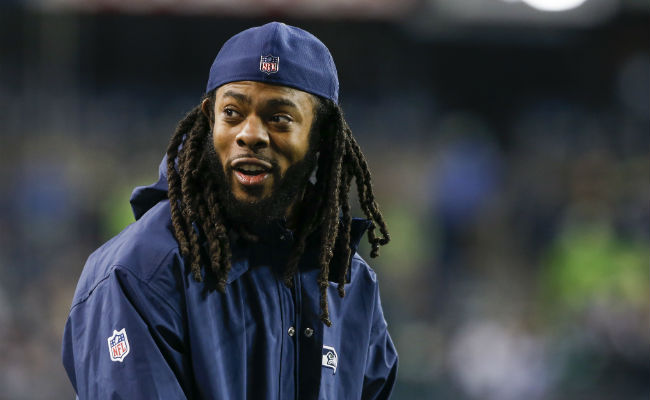 The Richard Sherman era of the Seattle Seahawks' defense appears to be over. The All-Pro has reportedly been saying his goodbyes to teammates over the last day, meaning a departure from the NFC West's most dominant team in recent memory appears inevitable.
Sherman suffered a ruptured achilles on Thursday Night Football in November, a huge blow to a defense on a team that failed to make the postseason this year. It now appears the Seahawks are retooling that defense, and it will be without Sherman in the secondary.
Though nothing official has been reported, the writing appears to be on the wall for Sherman and the Hawks. According to Ian Rapoport of NFL Network, Sherman is preparing for life after Seattle.
Teammates have posted goodbyes on social media and reporters are speculating about potential trades. Here's what fellow Legion of Boom member Jeremy Lane tweeted about Sherman, who wears the number 25.
Kam Chancellor also posted about Sherman, paying tribute to the star cornerback on Instagram on Wednesday.
Sherman, for his part, has said "I'm good" in relation to the well-wishes and did not confirm anything is imminent about his status with the Seahawks.
It does seem like big changes are coming for Seattle, though. The team is moving on from Michael Bennett as well. So while it seems like some teammates may have jumped the gun a bit on going public with their farewells, it's a matter of time before some big names start moving out of Seattle this spring.
Update: Following Bennett's trade to the Philadelphia Eagles, Sherman reportedly had a meeting with the Seahawks. The team has yet to decide what to do with him yet, though they are reportedly keeping their options open.