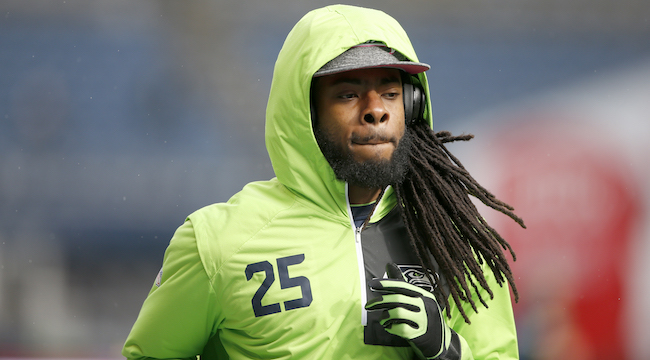 While it would be very difficult to discount Richard Sherman's on-field impact as one of the best cornerbacks in the NFL, the Seattle Seahawks star is not always beloved in terms of his persona. In recent days, Sherman and Seattle's defense were not painted in the best light when it comes to treatment and feelings toward quarterback Russell Wilson and, beyond that, the former Stanford defensive back has never been shy about expressing a controversial view.
With that said, Sherman's reputation has always seemed to have positive intentions off the field and a recent story from the Richmond Times-Dispatch reinforces that belief. In short, Sherman met a high school student named Hershai James last year as part of a charity event and he made a personal investment in her college tuition. However, James had to fulfill her end of the bargain as well, as Sherman's prompt included the fact that she had to ascend to the honor roll during his senior year at Varina High School.
As James completed her high school education, she was proud to have reached her goal and she cited Sherman as inspiration in doing so.
"When my senior year began, I definitely had the scholarship in my head as motivation. With being a senior, the year is really stressful. Having something to look forward to helped. It's like saying my hard work and dedication had paid off."
Sherman made it clear that he was happy to fulfill the promise that he made and he expanded on the thought process behind issuing the challenge in the first place.
"It goes back to knowledge is power, and if you have knowledge, you're going to be as powerful as you ever want to be. Nobody stops anybody from reading and educating themselves. Mike is only trying to empower these kids to be everything that they can be, and if we can help with that with our presence, with our [autographed] jerseys [for an auction], with our words, we'll do everything we can."
James will reportedly attend Norfolk State University beginning next year and this is a fantastic feel-good story. Education is exceedingly important and, while not everyone will have a personal connection to a celebrity to spur them on toward free college tuition, Sherman's work sends a positive message that investing heavily in education is a fantastic use of resources.