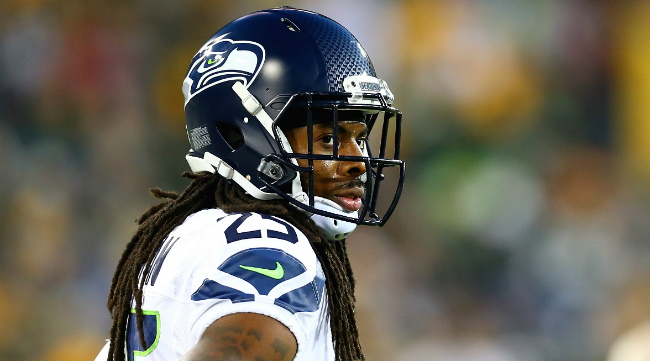 Richard Sherman is seemingly always in the news for off-field comments and, this time around, it is not in an amusing, light-hearted way. The Seattle Seahawks cornerback was involved in a verbal back-and-forth with a reporter on Tuesday afternoon and, after Jim Moore of 710 ESPN in Seattle asked two questions, Sherman responded with what amounts to a threat to end Moore's career.
What prompted the reaction from Sherman is up for interpretation, but the questions for Moore were reportedly as follows.

Following those questions, Sherman directly addressed Moore and said plainly that he would "end (his) career" by having his credential revoked.
This seems to be quite the blow-up from Sherman. The questions asked were directly related to football and the prompts were only given because of a well-documented sideline scuffle between Sherman and Seattle's coaching staff. While the Seahawks were embroiled in perhaps the most controversial play call in recent NFL history, that background only explains and does not endorse Sherman's behavior in this instance, as it seems quite rash and aggressive to suggest a reporter's credential be taken away for questions that were within the realm of normal discourse.
Richard Sherman isn't shy and, as a result, he provides a great deal of content for the football media, including an interesting performance during the body of the actual press conference seen above. In this case, though, he was almost certainly in the wrong.